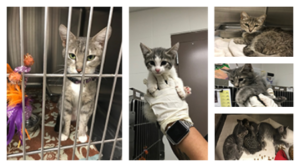 PACC and Health Department urging pet owners to vaccinate
PIMA COUNTY – Pima Animal Care Center has more than a dozen animals in quarantine after exposure to a confirmed case of rabies in Amado. A woman called PACC on June 4 saying she and several animals had been exposed to a possibly rabid skunk about two weeks prior.
Animal Protection Officers removed 15 cats and kittens and two dogs from the property. The woman and exposed family members, neighbors and all the animals are being treated for rabies exposure. The two dogs will be on 45 day quarantines as they have had prior rabies vaccines. The cat/kittens will all have 120 day quarantines due to no previous vaccine history. The skunk was never recovered. Four of the kittens died and two of the deceased kittens tested positive for rabies.
PACC Chief Veterinarian Dr. Jennifer Wilcox recommends residents living in areas where pets may come into contact with wildlife get a booster rabies vaccine for their pets and livestock, and that they keep them under close observation over the next several months, looking for any changes in behavior or health. PACC also recommends all Pima County residents vaccinate their dogs and cats against rabies, whether they reside indoors or out.
Rabies is found in skunks and other wildlife fairly regularly in Southern Arizona. This is the first case involving a domestic animal in several years. All pet owners in Pima County should ensure their pets have up-to-date rabies vaccines.
Rabies is a disease caused by the rabies virus. People and mammals can get rabies from contact with saliva delivered into a bite or scratch from an infected animal. It may take a few weeks to months for symptoms to show in infected people and animals. However, once symptoms of rabies start, the disease is nearly always fatal.
If you or someone you know recently came into contact with wildlife behaving erratically, notify the Pima County Health Department immediately at (520) 724-7797. Staff will help make sure you and your family are not at risk of getting rabies. Additionally, if you see a skunk, bat or any other wildlife acting oddly or on the ground, do not touch it. Stay away and immediately notify PACC. It is not normal for a wild animal to be friendly with people, so stay away from any animal that seems unafraid.
Also, remember to protect your pets. If your cat or dog is not current on their rabies vaccinations, be sure to vaccinate them as soon as possible. PACC has several upcoming vaccine clinics. Click here for information.