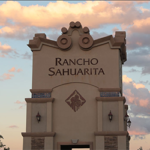 SAHUARITA, ARIZONA – Richmond American Homes recently bought 71 finished lots at Entrada La Villita, the newest community in Rancho Sahuarita Master-Planned Community, for $3.266 million ($46,000 per lot) from Rancho Sahuarita VIII, an affiliate of Sharpe & Associates (Robert Sharpe, president).
Ted Herman with Sharpe & Associates, who represented the seller in the transaction told us the decision to finish these 40'x 90' lots in this new subdivision began about one year ago.
"We were waiting for retail to catch up with price point appreciation," Herman said. "That seems to be happening now, and the outlook for new home builders looks great again. Rancho Sahuarita is also finishing another 165-lots which are already in escrow with two homebuilders."  Entrada Del Rio has the potential for 560-lots to be finished, planned in six-phases.
Richmond's long relationship with Rancho Sahuarita began in 2001 with the Presidio Del Sol neighborhood, before moving north into Presidio San Xavier, Presidio Coronado and Presidio Del Norte, which closed out last year.
"We're delighted to be building in Rancho Sahuarita again," said Michael J. Del Castillo, President of the Tucson Division of Richmond American Homes of Arizona, Inc. "In addition to all the wonderful amenities the community boasts, Entrada La Villita will feature four different two-story floorplans designed with homebuyers' needs in mind."
Rancho Sahuarita is located in the town of Sahuarita, Arizona, just 20 minutes south of downtown Tucson. Entrada La Villita is located southwest of the Rancho Sahuarita Clubhouse, near the intersection of La Villita Road and Sahuarita Road.
Other homebuilders currently active at Rancho Sahuarita include Insight Homes, D.R. Horton, KB Homes which will be closing out soon at Entrada Del Rio and now the return of Richmond American Homes.
For more information, Herman should be reached at 520.299.8766. To get updates about Entrada La Villita and to sign up for the neighborhood interest list, please visit www.RanchoSahuarita.com/LaVillita.
To learn more, see RED Comp #5396.