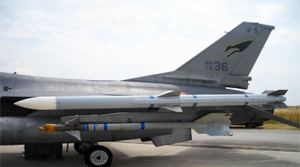 Refresh helps ensure modern air-to-air missile production into the next decade
TUCSON, Ariz., -- Raytheon Company (NYSE: RTN) and the U.S. Air Force are developing a new signal processor for the Advanced Medium Range Air-to-Air Missile under the Form Fit Function Refresh program, or F3R. The refresh will help ensure AMRAAM production well into the 2020s.
The new program comes as the government and industry team completes production of the 20,000th AMRAAM. With 10 combat victories and more than 4,200 successful test firings, AMRAAM remains the most proven and most technologically advanced air-to-air weapon ever produced.
"AMRAAM is and always has been the best missile of its kind," said Dr. Taylor W. Lawrence, president of Raytheon's Missile Systems business. "With the Air Force, we have evolved it beyond expectation, and we will continue to innovate to stay far ahead of the threats our armed services face."
AMRAAM's ability to track targets in electronic warfare environments makes it the leader in the air-to-air arena.  Procured by 37 nations, AMRAAM has flown on more aircraft worldwide than any other air-to-air missile.
AMRAAM is currently flying on the F-16, F-15, F/A-18, F-22, Typhoon, Gripen, Tornado and Harrier.
The AIM-120C5 and AIM-120C7 variants were fully integrated on the F-35 in 2015, in support of U.S. Marine Corps' initial operational capability for F-35B, and AMRAAM is the only air-to-air missile qualified on the F-35.
Fielded in 2015, the AIM-120D variant is the newest air-to-air weapon in the U.S. arsenal and has significant capability improvements, including increased range, GPS-aided navigation, two-way data link and improved weapons effectiveness.
With more than 4,200 test firings, no other air-to-air missile in the world has been as thoroughly tested or improved as AMRAAM.