Read to Shelter Pets at the Humane Society of SoAZ on July 4th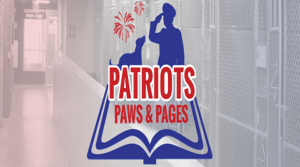 TUCSON, AZ – Read to shelter pets at the Humane Society of Southern Arizona (HSSA) on the 4th of July. The 4th of July can be a stressful time for pets and people alike. Many pets are fearful of the loud noises created by fireworks, causing great anxiety.
Help our shelter pets stay calm and safe by registering for our first ever Patriots, Paws and Pages. Active duty and veteran members of all branches of our armed forces – and any adult who cares about reducing shelter pets' stress levels during the holiday- are encouraged to register to read to shelter cats and dogs. Having someone spend time reading to them during this stressful time will make a difference in their lives. Reading will take place in the Dog and Cat Adoption areas outside of the kennels.
"We are excited to see our community come together to comfort the cats and dogs at HSSA on the 4th of July. This is a great opportunity to make a difference for a cat or dog that does not get to enjoy the comforts of home during the evening fireworks shows," said Inge Koopman-Leyva, Director of Education and Community Outreach.
Bookman's Entertainment Exchange and HSSA Thrift Store have generously donated a variety of books for participants to read. Participants are welcome to keep their chosen book or bring a favorite book from home. HSSA will be providing chairs, sitting pillows, bottled water, and directions on quality interactions with our animals while keeping everyone safe. There will also be delicious treats provided by Amy's Donuts and Nothing Bundt Cakes.
Registration is now open for three one hour sessions starting at 7:30pm, 8:30pm, or 9:30pm. Preregistration is required and space is limited. All participants must be at least 18 years of age. For more information visit www.HSSAZ.org/75, email afaulk@hssaz.org, or call 520-327-6088, ext. 171.
HSSA Main Campus will not be open for adoptions or merchandise sales at this event. For more information on Paws and Pages Literacy Program for children ages 5 to 11 visit www.HSSAZ.org/READ.
Don't forget to keep your pets at home safe with these helpful tips:
§  Leave pets at home and inside. Fireworks can be terrifying to pets, even pets who are accustomed to being around crowds and commotion.
§  Create a home sanctuary. Leave your pet in an area of your home where he or she is safe, comfortable and sheltered from any outside noise and lights. An interior room without immediate access to the outside is preferred. Playing a radio with relaxing music may help mask the sound of fireworks. Thundershirts are a great resource that provide a sense of security for fearful cats and dogs.
§  Pet-proof your home. When scared, some animals may become destructive so be sure to remove anything from reach that can become damaged or may harm the pet if chewed or eaten.
§  Identification is essential. Pets may panic, escape and become lost. Updated identification is critical to ensuring lost pets are reunited with their families. Ideal identification is both a tag and microchip.
§  Consult a veterinarian for pets with anxiety. Consult your veterinarian before the Fourth of July to seek out remedies to lower your pet's stress level if this is a known issue.
If your pet gets out, or if you find a lost pet, HSSA encourage you to immediately speak with your neighbors and post notices throughout the neighborhood and at all major intersections near where the pet was lost. HSSA's Admissions Department will open Friday, July 5th at 9am. At that time you can call 520-327-6088, ext. 103 to report a lost or found pet. You can also visit HSSA Main Campus at 635 W. Roger Rd. to view stray animals. To view available photos of stray animals, download a lost dog or cat flier, download a found dog or cat flier, or for more information visit https://hssaz.org/services/admission/lost-found-pets/.