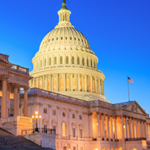 Real Estate Daily News Buzz is designed to give news snippets to readers that our (yet to be award winning) editors thought you could use to start your day. They come from various business perspectives, real estate, government, the Fed, local news, and the stock markets to save you time. Here you will find the headlines and what the news buzz for the day will be.
Wednesday, the Dow Jones industrial average was down 32.50 points, or 0.2%, to close at 15,962.34. The Standard & Poor's 500 index fell 0.5 point, or less than 0.1%, to 1,819.24. The NASDAQ composite rose 10.24 points, or 0.2%, to 4,201.29. Benchmark U.S. crude for March delivery rose 43 cents to $100.37 a barrel on the New York Mercantile Exchange.
SENATE CLEARS DEBT LIMIT MEASURE
WASHINGTON (AP) — After a dramatic Senate tally, legislation to allow the government to borrow money to pay its bills cleared Congress Wednesday for President Barack Obama's signature. The Senate approved the measure by a near party-line 55-43 vote. The legislation would permit the U.S. Treasury to borrow normally for another 13 months and then reset the government's borrowing cap, currently set at $17.2 trillion, after that. It passed the House Tuesday after Republicans gave up efforts to use the debt ceiling measure to win concessions from Obama on GOP agenda items like winning approval of construction of the Keystone XL pipeline. The measure is required so that the government can borrow to pay bills like Social Security benefits and federal salaries and make payments to Medicare and Medicaid providers.
OBAMA RAISES MINIMUM WAGE FOR CONTRACT WORKERS
WASHINGTON President Barack Obama increased the minimum wage for a few hundred thousand federal contractors on Wednesday, then pressed the divided Congress to pass broader legislation that would apply to all workers. Obama first announced the executive order to boost some contractor wages during his State of the Union address last month. He signed the measure Wednesday in a White House ceremony where he was flanked by Americans who would make more money if lawmakers take more sweeping action. White House officials concede that the executive order, which raises the hourly wage from $7.25 to $10.10, only applies to a small percentage of the more than 2 million federal contractors. But officials are hoping it generates momentum for Obama's proposal on Capitol Hill, particularly as both parties try to focus on issues like income inequality and economic mobility.

LOCAL ENGINEER PRAISES CITY OF TUCSON'S ANNEXATION DEPARTMENT
TUCSON – Tucson engineer Bill Carroll says the City's annexation policies have improved over the years and his latest dealings with Tucson were very positive. Carroll – who has experience in leading transportation, wastewater, and development teams – recently was involved in planning for an unincorporated subdivision near Bear Canyon Road. Initially, he thought the location and some other circumstances would preclude the project from being annexed into the City, but he said everything has turned out fine and the City was very helpful. Annexations into cities and towns bring in construction sales taxes, permit fees and state shared revenues to help pay the cost of providing government services to residents and businesses. Read the story from Trend Report: http://1.usa.gov/1kzOyqC

US BUDGET DEFICIT TOTALS $10.4 BILLION IN JANUARY
WASHINGTON (AP) — The U.S. government's deficit through the first four months of this budget year is down 36.6% from a year ago, signaling further improvement in the nation's finances. In its monthly budget report, the Treasury Department said Wednesday that the deficit for January was $10.4 billion. For the period from October through January, it totals $184 billion. That is down $106.4 billion from the same period a year ago and puts the country on track for a further improvement in the budget deficit. The Congressional Budget Office is projecting that the deficit for the current budget year will decline to $514 billion. That would be the smallest imbalance in six years. The deficit last year was $680.2 billion. Rising tax revenues from an improving economy and government spending constraints are helping to trim the deficit.
UA MINORITY STUDENT RETENTION RATE SETS RECORD
TUCSON – The freshman-to-sophomore retention rate for ethnic minorities enrolled full time at the University of Arizona was 80.9 percent for the first time, according to statistics just released by the school. The retention rate for all new students who began in 2012 was 81.5 percent. The figures put the UA on track to meet Arizona Board of Regents 2020 goals, which aim for a freshman retention rate of 85-90 percent at all of the State's three universities. The UA credits its use of collaborative work teams that examined policies, instructional approaches, the use of technology, and diverse perspectives for the improved results.
From the UA News: http://bit.ly/1g7iNSg
TOYOTA RECALLS 1.9 MILLION PRIUS CARS FOR SOFTWARE GLITCH
TOKYO (AP) — Toyota said Wednesday it is recalling 1.9 million hybrid Prius cars globally for a software glitch that could cause the vehicle to stall. Toyota Motor Corp. said that 997,000 Prius cars in Japan, some 713,000 in North America, another 130,000 in Europe and the rest in other regions are being recalled for a problem in the software to control the hybrid system. No accidents or injuries have been reported related to the problem. The software could cause transistors to become damaged, causing warnings lights to go off, driving power to be reduced or the car to stop. The recalled vehicles were manufactured between March 2009 and February 2014. The Japanese automaker suffered massive recalls starting in 2009, affecting more than 14 million vehicles for problems including floor mats, gas pedals and brakes.
AMAZON TO HIRE 2,500 NEW WORKERS ACROSS US
SEATTLE (AP) — Amazon says it is hiring more than 2,500 full-time workers at its order fulfilmentcenters around the U.S. Amazon.com Inc. plans to announce Wednesday that the jobs are available in Chester, Va., and Petersburg, Va.; Coffeyville, Kan.; Columbia, S.C.; Dupont, Wash.; Murfreesboro, Tenn. The world's largest online retailer says last year it hired more than 20,000 people at its fulfilmentcenters, with more than half starting out as seasonal workers. Amazon says the median income for people working at its order-fulfilment facilities is higher than at traditional retailers. The Seattle-based company had 117,300 full-time and part-time employees at the end of 2013, according to a regulatory filing.
VERIZON WIRELESS NOTIFIES ABOUT 3,000 WORKERS THAT THEY WILL NEED TO TRANSFER OR FIND DIFFERENT JOBS
SAN FRANCISCO (AP) — About 3,000 Verizon Wireless workers will have to transfer to different offices or find new jobs. The changes announced Wednesday are part of a reorganization affecting Verizon offices in California, Pennsylvania, Connecticut, Maryland and Georgia. Verizon says it is closing customer service centers in some of those states and changing the types of jobs in other states. The reshuffling is supposed to be completed by early May. The affected employees work in: Cranberry Woods, Pa.; Warrendale, Pa.; Irvine, Calif.; Meriden, Conn., Wallingford, Conn.; Hanover, Md.; and Alpharetta, Ga.

BITCOIN ENTREPRENEURS BULLISH DESPITE TECH TROUBLE
BERLIN (AP) — A freeze on Bitcoin withdrawals imposed by three major exchanges won't cause any long-term harm to the digital currency's credibility, entrepreneurs attending a Bitcoin conference said Wednesday. Bitcoin's value, which topped $1,100 in November, dropped below $630 Wednesday after the news overnight that the BTC-E and Bitstamp exchanges have stopped customers from converting their funds back into traditional currencies. They cited an apparent technical glitch that allows fraudsters to flood exchanges with fake withdrawal requests — a problem first reported by the Mt. Gox exchange when it announced a freeze on withdrawals last week.

PIMA COUNTY DECLARES ITSELF 'IMMIGRANT-WELCOMING' COMMUNITY
TUCSON – Pima County Supervisors yesterday voted unanimously to designate the County as an area that welcomes immigrants. Supporters say the non-binding resolution will encourage tourism and honor those living legally in the County. The two-page resolution says Mexico is the United States' third-largest trading partner and second-largest market for U.S. exports. It also says an estimated 400,000 people and 15,000 containers cross the U.S.-Mexico border legally every year, and an estimated six million jobs in the United States are tied to trade with Mexico. This is not the same as the resolution Tucson Mayor and City Council passed for illegal immigrant-welcoming designation more than a year ago.
MEET THE WORLD'S LARGEST RODENT AT THE REID PARK ZOO
TUCSON – Wesley is a special animal at the Reid Park Zoo. The capybara is trained to touch a ball with his nose and stand on his feet for food. The capybara, from South America, is the world's largest rodent and lives in savannas and dense forests near bodies of water. Watch video of Wesley in action on Tucson 12: http://bit.ly/LSBXjk or Reid Park Zoo: http://bit.ly/1dJgCDh