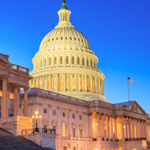 The Dow Jones industrial average closed up 76.10 points, or 0.5%, at 15,072.58. The Standard & Poor's 500 index rose 11.84 points, or 0.7%, at 1,690.50 and the NASDAQ composite index gained 33.41 points, or 0.9%, at 3,807.75 on this DAY FOUR of the government slim down.
Wholesale gasoline fell 3 cents to $2.61 per gallon. Natural gas rose 1 cents to $3.51 per 1,000 cubic feet. Heating oil was flat at $3.00 per gallon.
US HOUSING REBOUND LIKELY TO HANDLE RATE HIKES
Many brokers and analysts remain confident that the housing recovery can handle higher mortgage rates. While the jump in rates should test the strength of the recovery, analysts foresee stable sales increases over the next year for a number of reasons.
NOT ALL FEDERAL AGENCIES TAKING A HIT
WASHINGTON - As many high-profile agencies sit idle because of the federal government partial shutdown, others are humming along just fine, thank you. Many of them have escaped the fiscal axe because they pay much of their own way, or enjoy a revenue stream that's insulated from Congress. That means the cable bill and weekly grocery ads will still fill the mailbox, due to the stamps and other items the post office sells. Social Security checks, food stamps and some other benefits will also show up on time because they are either funded with payroll taxes or otherwise deemed necessary and paid for in ways that keep them protected from lapsed budgets.
NEW JERSEY'S CASINOS TO LAUNCH INTERNET GAMBLING NOV 26
ATLANTIC CITY, N.J. - New Jersey residents and visitors will be able to start gambling online as of Nov. 26, after a five-day trial period to make sure the systems operated by the city's 12 casinos work properly. The Atlantic City's casinos may begin a "soft play" period on Nov. 21 for invited guests. If all goes well, the casinos can begin full Internet gambling at 9 a.m. EDT on Nov. 26. Gamblers would have to be physically located within New Jersey's boundaries to play. New Jersey will be the third state in the nation to offer online gambling, along with Nevada and Delaware.
INVESTORS GOBBLE UP POTBELLY SHARES IN ITS DEBUT
NEW YORK - Investors gobbled up shares of Potbelly Corp. Friday, and the sandwich chain's shares more than doubled in their debut on the NASDAQ. The company's initial public offering was another win for food companies going public. Shares of Sprouts Farmers Market Inc. rose 123% in the natural and organic grocery's August IPO. Restaurant chain Noodles & Co.'s stock more than doubled in its June debut.  Potbelly's stock rose $16.77, or 120%, to close at $30.77, after the IPO raised $105 million - more than the company had expected.
'HOBBIT' TRILOGY COSTS $561 MILLION SO FAR
WELLINGTON, New Zealand - Making the movie trilogy "The Hobbit" has cost more than half a billion dollars so far, double the amount spent on the three movies in the "The Lord of the Rings" series. That figure includes the major 266 days of filming with actors that was completed last year, although it doesn't include an additional two months or so of "pick-up" shoots done this year. There will likely also be additional post-production costs as the next two movies are completed. Through March 31, production had cost 676 million New Zealand dollars, or $561 million at current exchange rates, according to financial documents filed Friday in New Zealand, where the movies are being made.
LOCKHEED MARTIN TO FURLOUGH 3,000 WORKERS
BETHESDA, MD - Lockheed Martin will furlough 3,000 employees on Monday and potentially more in coming weeks due to the government shutdown. The defense contractor said Friday that the furloughs will affect its business nationwide and it is working closely with customers to assess the impact. It said the number of employees put on furlough will increase weekly if the shutdown continues, but did not specify how high the count could rise. Lockheed says the furloughs include employees who are unable to work because the government facility where they perform their work is closed, as well as those whose work requires a government inspection that cannot be completed or for which the company has received a stop work order.
TESLA CEO SAYS FIRE CAUSED BY IMPALED BATTERY
SEATTLE - The CEO of electric car company Tesla says a battery in a Model S that caught fire this week was apparently impaled by a metal object. Elon Musk gave more detail in a blog post Friday about the fire that became an Internet sensation and unsettled Tesla investors. He also defended the car's battery technology. Musk wrote in a blog post Friday that fires are more common in conventional gas-powered vehicles.