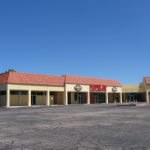 This article has been archived, please login for access or subscribe now by going to the subscribe tab at the top of page.
The sale of Wilmot Plaza has rumors buzzing in Tucson's real estate community these days. Since we report only facts at the Real Estate Daily News, the fact is there are many rumors and half–truths. We can confirm the following on the property at 6301-6371 East Broadway and 10 N Wilmot Road, located at the northwest corner of Broadway and Wilmot, it did sell for[mepr-show rules="58038"] $6.2 million. The seller, two families that owned the center since 1961, Wilmot Plaza, LLC of Houston, TX finally sold it after they were approached by multiple groups.
The property is a total of 9.8 acres and according to public records, Bourn Companies on behalf of the seller rezoned 2.6 acres from R-1 to C-1 for redevelopment in 2012.
Built in 1956, the property consists of relatively large buildings grouped along the northern and eastern edges of the site, two small, free-standing vacant buildings near the Broadway/Wilmot intersection, and a small building at the northwest corner of the site. The shopping center was zoned commercial C-1, except the strip of land on the north and east property boundary.
Tucson General Plan defines the area as a regional commercial activity center that includes Park Place Mall and several shopping centers along Broadway Blvd, a high density office and residential node northwest of the intersection and the St. Joseph's Hospital and medical office complex. The General Plan also encourages redevelopment and expansion of strip commercial development to improve traffic flow, pedestrian circulation and safety, and streetscape quality, providing primary access from an arterial street away from residential uses.
The center was 60-70% vacant when it sold to BP Wilmot Plaza, an investment group formed by Don Bourn, managing member.
Here's where the rumors start, because we all anticipate Bourn Companies has some incredibly fabulous redevelopment plan for this property, with high profile tenant(s), that will totally transform the dynamics of this corner, as they have done in other retail centers, otherwise why buy it?
But they aren't ready to discuss it yet, according to Bourn, "We bought the property because we liked it and we are excited by its potential."
Paul Schloss, who is co-marketing the project with Bourn Advisory Services, LLC went on to explain, "The developer does not respond to rumor or speculation regarding specific tenants. But will do so when they have definitive information to share."
So, there you have it. We will all have to wait until the new owner has something ready to share, and in the meantime, wish them nothing but good luck in inking a deal with one or more of the rumored tenant(s) at this prominent intersection.
Paul Schloss, formerly of CBRE in Tucson, acted as representative of seller and Alan Tanner of Bourn Advisory Services, LLC represented the buyer on the transaction. Schloss and Tanner, as co-leasing agents for the property, may be reached at (520) 977-3800 and (520) 318-6624, respectively. [/mepr-show]