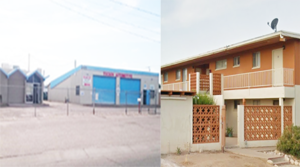 TUCSON, Arizona — James P. Robertson Jr., CCIM, Senior Commercial Associate Broker with Realty Executives Tucson Elite, announced the closing of two commercial transactions in Tucson, one a multifamily and the other for an automotive center.
Robertson assisted the seller, Frank and Florence Cotta in the sale of Coventry Manor Apartments at 5770 E. 10th St. Tucson, AZ.  A 32-unit community, built in 1962 in the Park Mall retail corridor.  The property consists of 20 one-bedroom, 4 two-bedroom and 8 studio units, with pool and laundry facilities amenities.
This was one of only a few remaining distressed multifamily properties in the Tucson marketplace.
"Count this sale as another victim and hopefully the last of the recent real estate valuation collapse.  I applaud the buyers and the buyers' representative for being knowledgeable on the multifamily sale process.  It is not for the light-hearted," said Robertson. "The buyer saw that the property had good bones, but needed cosmetic and mechanical upgrades.  An opportunity was there at the right price."
After a three-month escrow and countless negotiations with the lenders, escrow closed with a sales price of $860,000 ($26,875 per unit).
The buyer, Catalina by Bakerson, LLC, was represented by Rich Rose with Praedium Advisors from Phoenix, AZ.
In a separate transaction, Robertson assisted both the sell and buy the former Tucson Automotive Center to Central Collision Center at 2420 & 2430 N Palo Verde Blvd. in Tucson for $295,000 ($46 PSF) in the Central Tucson submarket.
"The location at 2420 & 2430 N. Palo Verde Blvd was an ideal location for Central Collision Center to expand their exotic car renovation division," said Kevin Styer, President of Central Collision Center. "Central Collision Center's new location consists of 6,373-square-feet in two buildings.  One of the buildings is retrofitted with mechanical lifts ideal for mechanical repairs and the second building is perfect for the fine details needs to put the final polished touch to our client's collectable automobiles."
"After a short tenant improvement build out period, Central Collision Center is ready for their clients," said Robertson.
Robertson, as a CCIM specialized in multifamily, has earned the internationally recognized professional designation that signifies expertise in commercial investment real estate.
For more information, Robertson should be reached at 520. 284.9572.
To learn more, login and see RED Comp #4387 and RED Comp #4346.