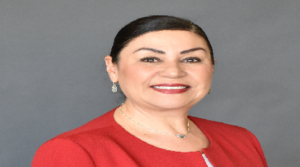 TUCSON, ARIZONA — Rebecca Fuentes, SPHR, a 17-year veteran of Cushman & Wakefield | PICOR, was named Director of Operations. Most recently serving as Director of Human Resources, Rebecca's growth, value, and contributions were recognized by the employee-owned Tucson company's shareholders.
During her tenure at C&W | PICOR, Rebecca's role has expanded from office management, to professional human resources oversight and broad operational leadership, while earning the SPHR certification from HRCI. Says chief executive officer Barbi Reuter, "Rebecca has become a valued member of the leadership team. She lives our values and works to promote the wellbeing and productivity of our full team of 50."
Rebecca served as 2018 President for the Society of Human Resources Management (SHRM) of Greater Tucson, is an active volunteer in the PICOR Charitable Foundation, and leads numerous efforts connecting C&W | PICOR team members to the community. Her favorite annual endeavor is coordination of the hosted Christmas party for residents of The Centers for Habilitation.