REFUNDS COMING: Customers of APS, TEP, UNS can Expect Small Bill Credit in June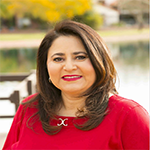 TUCSON – Customers of Arizona Public Service Company (APS), Tucson Electric Power Company (TEP), and UniSource Energy Services (UNS) Electric and Gas can expect to see a small credit on their electric and gas bills in June 2020.
During the Commission Regular Open Meeting in May, Commissioner Justin Olson led the Commission on the decision to issue a refund, and Commissioner Lea Márquez Peterson led the Commission on the decision to accelerate the payback period to an immediate one-time payment in June, when energy bills tend to increase, so customers wouldn't have to wait longer to receive the credits. The decisions to refund the money and accelerate the payback time frames were approved by unanimous votes of the Commission. The votes to pass the amendments proposed by Commissioners Olson and Peterson passed unanimously.
The source of the credit, or refund, comes from a surcharge and portion of federal income taxes the companies offered to return to customers on an accelerated basis in light of COVID-19. In the cases of UNS Electric and UNS Gas, the credit comes from federal income tax reductions the companies had received under the Tax Cuts and Jobs Act of 2017, which totals $1.5 million and $1.3 million, respectively, in remaining reductions the companies had offered to give back to customers. In the cases of APS and TEP, the credit comes from a surcharge the companies have been collecting from customers over the last several years but had not energy efficiency measures, such as LED lights, smart thermostats, and home weatherization. These collected but unspent surcharges totaled $36 million and $8.3 million, respectively, which the Commission ultimately decided should be returned to customers.
Accordingly, customers of each of the classifications below can expect to see the following estimated average credits on their bills in June, which are based on overall usage:
While the amount of the credit may be only a few dollars for many customers, the estimated amounts are commensurate with the proportion of energy and gas usage representative of each customer class. Large electric and gas customers, particularly those that represent large commercial and industrial operations, pay a lot more each month on their respective electric and gas bills than small electric and gas customers, so they can expect larger amounts coming back to them in their bill credit.
"While the Commission cannot deny that the amount of the refund for residential customers is small, it does correspond to the overall proportional amount that was paid in," said Commissioner Márquez Peterson.
"While refunding money back to customers was the right thing to do, I agree this was a challenging decision and can appreciate why some consumer advocates would have liked the Commission to do more for those customers that need the help most and would have liked to see the Commission reallocate those dollars for targeted relief. For many households, this one-time payment will not be enough. This may be especially true for those customers who just lost their jobs or small businesses that are no longer receiving a steady stream of income. There were also many questions about how the excess funds became available in the first place, and why some utilities didn't use those funds to help customers save money on their electric bills in the years prior, as previous Commissioners may have requested. But, despite those questions, I, like the other Commissioners, ultimately agreed that the excess funds should be given back to the customers that paid them. Making this a lump sum payment, as my amendment had authorized, will have the largest effect on customer power bills today, while supporting affordable rates and long-term investments in energy efficiency resources in the future, will help to drive down costs and attract more businesses to Arizona as the economy begins to recover after COVID-19."
Commissioner Lea Márquez Peterson reminds customers that additional resources are available and that customers should contact their utility service providers as soon as possible, before bills are past-due.
Regulated utilities have voluntarily committed to not shutting-off customers' utilities or charging late fees for customers' inability to pay during COVID-19. "Households shouldn't have to worry about whether they will have running water and electricity now. With the utilities' voluntary commitments, customers don't have to worry about these concerns, but it does mean we will have significant financial challenges that the Commission will need to deal with in the future."
For customers that will continue to suffer financial hardships through COVID-19 and upon the expiration of the Commission's summer disconnect moratorium, Commissioner Márquez Peterson assures that the Commission is doing everything it can to look for other options, to provide as much relief as possible for customers, and to push its utility service providers and stakeholders to come up with as many ideas as possible to help residential customers and small businesses during this time.
One example included an offer from Commissioner Márquez Peterson to temporarily suspend the surcharge that had caused the overcollection among APS and TEP customers in the first place. Commissioner Márquez Peterson had proposed the idea to temporarily suspend the surcharge after hearing various suggestions from consumer advocates such as AARP and the Southwest Energy Efficiency Project over the last several months and years that surcharges can pose a risk to customers and lead to customer dissatisfaction. The proposal was not supported during the Commission's Regular Open Meeting, but Commissioners did state it was something the Commission could consider at a future time.
Other options Commissioner Márquez Peterson is currently exploring include the following:
Various forms of rate relief for utility customers during the pandemic;
Encouraging utilities to voluntarily contribute shareholder funds toward
Asking Congressional representatives to allocate greater federal Low Income Home Energy Assistance Program (LIHEAP) dollars for hot-weather states, such as Arizona, in Congress's Phase 4 COVID-19 Stimulus Package.
Evaluating the use of electric appliances, air conditioning, and other at-home energy consumption during the middle of the day to take advantage of excess solar power and below-average retail electric prices during "off-peak" hours to save money, while balancing that advantage with the potential disadvantage of paying more for electricity during "on-peak" hours in the evening; and
Exploring options to improve energy efficiency processes and sources of funding in Arizona in the future, so customers can benefit from additional long-term savings after COVID-19, reducing their overall consumption during peak-demand hours and helping to save money on bills during the portions of the day that increase costs the most.
"The Arizona Corporation Commission is committed to providing as much relief for as many customers as possible during COVID-19," said Commissioner Lea Márquez Peterson. "I am happy the Commission was able to provide at least this small amount of relief for residential customers now."
"We will continue supporting cost-effective energy efficiency programs that align with peak demand to help save money on customers' electric bills in the future, while investigating the cause and seeking to prevent the reasons that explain why those funds were not utilized as former Commissioners may have intended. In the meantime, I look forward to considering additional options for relief as utilities and stakeholders bring additional proposals before us in the coming weeks and months."
Commissioner Lea Marquez Peterson has served on the Arizona Corporation Commission since May 2019 and is the only member not based in Maricopa County. She is the former President & CEO of the Tucson Hispanic Chamber. Her office can be reached at lmarquezpeterson-web@azcc.gov.