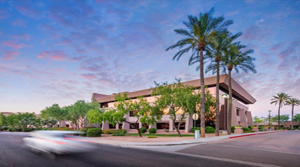 Cushman & Wakefield Negotiates Sale of Class A Office in Scottsdale, AZ
PHOENIX, Arizona – Cushman & Wakefield announced that 90 Mountain View Phase II, located at 9999 N. 90th Street in Scottsdale, Ariz., was purchased by Denver-based Buchtel Realty Investors from Los Angeles-based Regent Properties for $30.5 million ($329.50 PSF).
Steve Lindley, Bob Buckley, Tracy Cartledge of Cushman & Wakefield Phoenix, along with Andrew Bogardus and Douglas Longyear of Cushman & Wakefield San Francisco, negotiated the transaction on behalf of the seller – Regent Properties. Rob Edwards and Tom Ethington, Principals at Pinnacle Real Estate Advisors, represented the purchaser – a private family owned real estate company.
90 Mountain View Phase II is a three-story, 92,562-square-foot, single-tenant office building currently 100% occupied by PayPal. The building serves as one of PayPal's four global, mission-critical Network Operations Centers. Developed in 2005, the Class A, institutional-quality property has millions invested in the building for the mission-critical operations center use. PayPal's other three Network Operations Centers are located in Silicon Valley, India and Malaysia.
"The property was an ideal investment for risk-averse buyers, including a long-term lease, prestigious Scottsdale address, well known credit tenant, and mission-critical use," said Steve Lindley.
The building is LEED Silver and Energy Star-certified and features mountain views. Located in the center of Scottsdale, the property is freeway accessible providing PayPal access to a highly talented workforce in a rapidly growing high-tech industry cluster.