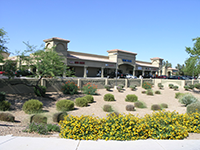 Central Square, a 21,516-square-foot shopping center built in 2005 was recently sold to Dr. Sewa Dhanjal of Goodyear, AZ for $1.55 million ($72 PSF). The sales price was based on price per square foot. The location of the property is east of the Northeast corner of Van Buren & Central in Goodyear, Arizona. The seller was Sabal Financial Group of Newport Beach, CA. The building was 41% occupied at closing.
Mark Rein of Rein & Grossoehme, who specializes in the sale of shopping centers and has sold 93 such properties over the years represented the seller and the buyer.
* * * * * * * * * * * * * * * *
Perkins Holding, LLC purchased a 1,782-square-foot retail/office building located at 4381 N. 75th Street in Old Town Scottsdale, The sales price was $560,000 which equates to $314 per square foot. The seller was Robert A. Ledlie, LLC.
Jared Lively of Rein & Grossoehme represented the seller and Brooks Spillsbury of Fielding Success Realty represented the buyer.
* * * * * * * * * * * * * * * *
Bill Alter and Denise Nunez closed on the sale of American Systems Mini Storage at 1060 W Broadway in Mesa, which represents the Team's 133rd successful closing of this property type. American Systems Mini Storage is a 35,400-square-foot, mixed-use property consisting of 251 storage units and 22 commercial/retail suites. The property was about 70% occupied at closing and sold for $1,462,500 ($5,357 per unit).
The Alter/Nunez Team represented both the seller and the buyer in the transaction.
For more information contact Bill Alter at 602-315-0771. You may also visit www.AZSelfStorageBroker.com.
To learn more on the other two sales, Rein and Lively can be reached at (480) 214-9400.