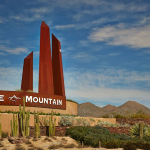 Pulte Homes closed on additional land for 241 SFR lots in the Del Webb at Dove Mountain Active Adult Community where it plans to build approximately 650 homes on 208 acres when complete. The latest takedown for 241 lots sold for $6.96 million ($28,863 per lot). This was phase three of a five phase option.
Sales have been brisk in this Del Webb community since it broke ground in February 2013. To date Del Webb has sold 98 homes, closed on 65 of these with 33 under construction. As reported back in February, there were nearly 100 inquiries within a day of posting a "coming soon" sign on the property.
Del Webb Corporation was acquired by Pulte Home in 2001 and is a leading builder in active adult communities. The Del Webb at Dove Mountain Community is located southwest of the Ritz Carlton Resort off Dove Mountain Blvd and is a mixture of 40-, 50- and 60- foot wide lots.
Bob Hadd of the Hadd Company in Tucson represented the seller, Cottonwood Properties' affiliate, DM Phase IV Investments, LLC (Carson Mehl, member).
Cottonwood Properties of Tucson is privately owned and the original developer of the 6,200-acre Dove Mountain community in Marana, Arizona. In addition to the many neighborhoods within Dove Mountain, Cottonwood developed The Ritz-Carlton Resort, Residences and Golf Club – home to the Accenture Match Play World Golf Championships.
Recently, a 2.04 acres sold at The Ritz-Carlton Resort, Residences and Golf Club for $845,000 for a single custom home lot to an out of state buyer. "We're very happy with the activity we've been seeing at Dove Mountain," Carson Mehl, president of Dove Mountain Homes, told us. "This was the highest price paid for a single lot since the recession."
In addition at Dove Mountain, Mattamy Homes recently opened with 11 sales and Miramonte Homes has models under construction that should be ready in a couple of months.
Also in the Northwest, at nearby Tortolita Vistas, Maracay took down six more lots for $963,230 ($160,538 per lot). Located north of Tangerine Road on Thornydale Road, Tortolita Vistas is set in the foothills of the Tortolita mountain range, surrounded by stunning views. Homes are on over-sized one acre sites that feature lush desert open space. Maracay is building a total of 54 homes that began October 2013 in Tortolita Vistas.
Will White of Land Advisors Organization in Tucson represented Maracay in the rolling option.
To learn more, Hadd can be reached at 520.403.2812 and White is at 520.514.7454. Mehl can be contacted at 520.572.8000.
Also see RED Comp #3321 and #3328.
Related story: A Perfect Storm for Home Builders at Dove Mountain