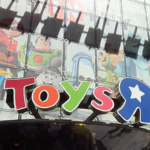 Toys R Us plans to reverse its declining fortunes by ramping up its investment in omni-channel technologies and by appealing more to young parents and gift-givers, executives said at an investor event in New York City this week. "We have four main issues to resolve – improve the customer experience in-store and online, make progress on changing price perception, put disciplines back into inventory management, and right-size our cost structure on a global basis," said Antonio Urcelay, chairman and CEO of the Wayne, N.J.–based company.
A weak holiday season capped off a disappointing year for the toy chain. Same-store sales fell 4.1 percent at the chain's 872 U.S. Babies R Us and Toys R Us stores in the fourth quarter. Net sales for the quarter tumbled 8.7 percent compared the previous year's fourth quarter, to $5.3 billion. For 2013, same-store sales dropped 5 percent at U.S. stores and net sales fell 7.4 percent year-on-year to $12.5 billion. "Our 2013 performance was, no doubt, disappointing," Urcelay said. "While this was partly driven by macro conditions, such as the decline in birth rates since 2007 which has contributed to stagnating overall toy and baby industry sales, and the rapid growth of online shopping, we cannot blame these factors."
Toys R Us will address its problems by making existing stores cleaner and easier to shop; making sure shelves are properly stocked and checkout lines are short; solidifying customer relationships through strengthened loyalty and targeted marketing programs; improving price perception by developing a clear pricing strategy and simplifying promotional offers; and optimizing the e-commerce experience and improving omni-channel integration between stores and online.
Despite the sales declines Toys R Us will not be closing stores en masse in the coming years, Urcelay said. "While it may close some stores during the year primarily due to lease expirations, at this time the company has no plans to close a significant number of stores," he said. The company will close a Nevada warehouse because it is shipping more products directly from stores, he added. The company will continue to open stores and expand fulfillment capabilities in markets where it makes the most sense, including in China where growth has accelerated.
And things are already looking up, Urcelay said. "2014 fiscal year has started off well, with a 3.5 percent comparable store net sales increase in the U.S. and a 0.2 percent comparable store net sales increase in our international segment through the first seven fiscal weeks," he said. Movie-related products are helping drive the increase in sales, he added. The company ended the year with cash and cash equivalents of $644 million and unused availability under committed lines of credit of $1.2 billion.