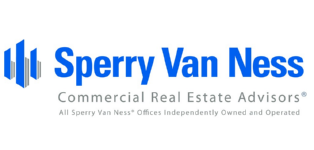 Sperry Van Ness in Phoenix is reporting retail sales of over $8.3 million.
The Hinkson Company, LLC purchased a 50,467 SF retail building, known as Glendale Center, located at 5139 W. Glendale Avenue in Phoenix for $2,600,000 or $51.51 PSF. Erin Schrauth, Peter McQuaid and Greg Vanlerberghe represented the seller, GLC Glendale Holdings, LLC.
Lead Charter purchased a 16,000 SF retail building, known as Cooper Square, located at 707 E. Ray Road in Gilbert for $935,000 or $58.44 PSF. Ryan Mojahed represented the seller, JLM Financial Investments 9, LLC.
Atos Inc. purchased a 24,724 SF former Big Lots retail building located at 1826 W. Baseline Road in Mesa for $1,250,000. The seller, Shayesthfar Family Trust, was represented by Shari A. Tucker-Gasser, Trent McCullough, Peter McQuaid, Greg Vanlerberghe and Erin Schrauth.
Vito's Pizza & Italian Restaurant, located at 10999 N. Frank Lloyd Wright Blvd in Scottsdale, has been purchased by Vito's 3, LLC for $1,000,000. Neil Sherman, Mary Ridberg and Rommie Mojahed represented the buyer. The freestanding, 4,616 SF building sits just North of Desert Cove Avenue on Frank Lloyd Wright Blvd. The seller was ECG New Palo Verde LLC.
Rittenhouse Landco, LLC purchased a 38,715 SF new construction retail building located ESEC of Rittenhouse Road and Ellsworth Road in Queen Creek for $325,000. Dairy Queen will occupy the majority of the space and there is 2,600 SF available for lease. Mary Ridberg and Rommie Mojahed represented the buyer and handle the leasing.
Trenton McCullough and Shari A. Tucker-Gasser, Retail Investment Advisors in the Phoenix Sperry Van Ness office, represented the buyer, Sossaman Development LLC, in the $2,200,000 purchase of 4.95 acres of commercial land zoned LC, formerly known as C-2, in the City of Mesa. Located just north of Costco on the hard corner of Sossaman Road and Hampton Avenue in Mesa, AZ. Sossaman Development LLC has plans to develop and sell or lease pads for a multi-tenant retail building and two freestanding single tenant retail buildings along Sossaman Road.
To learn more contact the Sperry Van Ness office at (480) 425-5500.