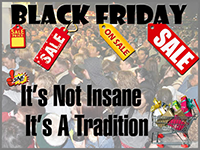 Black Friday was a little less crazy this year. There were squabbles here and there, and elbows got thrown, but the Friday morning crowds appeared smaller than usual and less frenzied, in part because many Americans took advantage of stores' earlier opening hours to do their shopping on Thanksgiving Day. That might be hard to stomach for people worried about commercial encroachment on Thanksgiving. But it is good news for bargain-hunters who hate crowds. Whether it's good news for retailers remains to be seen.
Black Friday still the biggest day for holiday shoppers
Though the overall number of shoppers dropped this year, it remains clear that Black Friday still draws the biggest crowds of the weekend. According to a survey by National Retail Federation, 86.9 million shoppers were in stores and online on Black Friday; nearly one-third (32.2% or 43.1 million) say they shopped on Thanksgiving Day, flat with last year's 31.8 percent. Half (51.8%) say they shopped on Saturday and one-quarter will shop on Sunday (25.5%).
Of those who say they did shop on Saturday, three-quarters (75.2%) said they did or planned to shop specifically for Small Business Saturday.
Nearly 42% of holiday shoppers budget spent online
Holiday shoppers weren't only in stores on Thanksgiving, they were also online, though it seems early online promotions before the big weekend may have taken some of consumer's spending power with them. According to the survey the average person who shopped over the weekend spent $159.55 online, approximately 41.9% of their total average budget, down 10.2% from $177.67 last year.
Most shoppers say they shopped online on Black Friday (46.7%), though 36.3 percent say they shopped online on Saturday. Additionally more than one-quarter (26.2%) of holiday shoppers were online on Thanksgiving Day.
Nearly 1 in 5 will use mobile device to shop on Cyber Monday
Keenly aware that retailers during the holiday season offer deep discounts on everything from pajamas to home furnishing items, online holiday shoppers this year may wait to see what retailers have planned for Cyber Monday before deciding to shop. According to the National Retail Federation's Cyber Monday Expectations Survey conducted by Prosper Insights & Analytics over the weekend, 126.9 million (52.3%) shoppers plan to shop online on Cyber Monday, down slightly from the 131.6 million who planned to participate last year.
"For today's shopper, every day is 'Cyber Monday,' and consumers want and expect great deals, especially online, throughout the entire holiday season – and they know retailers will deliver," said NRF President and CEO Matthew Shay. "Retailers will still offer unique deals exclusive to Cyber Monday, but consumers also know shopping on Cyber Monday won't be their last chance to find low prices and exclusive promotions."
When asked how they plan to shop on Cyber Monday, 24.5 million (19.3%) said they will use their mobile device, and eight in 10 (84.5%) will use their home computers to shop online. Mobile retailing remains important as consumers increasingly rely on their smartphones and tablets to research and purchase products. And, retailers are eager to meet consumer demand from these savvy customers as nearly seven in 10 (69.1%) retailers polled in Shop.org's July eHoliday survey said they invested in optimizing their mobile websites prior to the holiday season, up from the 57.4% who said so last year.
Additionally, the latest Shop.org's eHoliday survey found that 97.6% of online retailers polled say they will offer specific Cyber Monday deals.
As for when they'll shop, 40.8% of shoppers will be up bright and early on Cyber Monday to take advantage of the early morning deals. Others will shop over their lunch hour (18.4%) or early afternoon (32.5%).
Shop.org Reveals Retailers Participating in CyberMonday.com Deals of the Hour
Shop.org's CyberMonday.com, which features holiday promotions and special savings from hundreds of retail companies, was created by retailers as a one-stop shop for consumers looking for the best Cyber Monday promotions.
In addition to hundreds of special offers, some of which will be exclusive promotions available only on the site, CyberMonday.com will be featuring a Deal of the Hour on its front page tomorrow, highlighting a different retail promotion every 60 minutes. Retailers participating in the Cyber Monday Deal of the Hour include Gap, Tommy Hilfiger, Macy's and Kohl's. Offers will include free shipping, dollars off, percentages off, and free gifts with purchase.