RHP Properties purchase two Tucson Manufactured Home Communities for $14.85M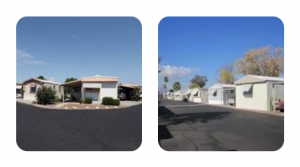 RHP Properties expands Arizona presence – now at nine properties
FARMINGTON HILLS, Mich. – RHP Properties has announced the acquisition of two manufactured home communities in Tucson, Arizona. The company completed the purchase of Cielo Vista, 185 home sites, and Arizonan, 63 home sites; bringing its total of manufactured home communities in Arizona to nine and 258 communities nationwide. The announcement was made by Ross H. Partrich, CEO, RHP Properties.
Cielo Vista and Arizonan are located in northern Tucson off Interstate 10 and are in close proximity to major retail outlets and the University of Arizona. Both are all-age family communities with shopping and restaurants within walking distance and with convenient access to public transportation. Cielo Vista's amenity package includes a pool, two clubhouses and access to Jacobs Park, a multi-purpose city park which features a pool and many sports venues. Defense installations also are nearby, as well as many companies involved in the design and manufacture of optic systems.
According to public records, Ciela Vista sold for approximately $11 million or $59,500 per space and the Arizonan sold for $3.85 million, or approximately $61,000 per space. The $ 14.85 million portfolio sold for an aggregate of $60,000 per space for all 248 spaces.
"RHP Properties is pleased to announce the expansion of our portfolio of high-quality manufactured home communities in Arizona," said Partrich. "We look forward to our continued investment in the city of Tucson and providing the residents of Cielo Vista and Arizonan our 30-plus years of stable ownership and management experience."
With these acquisitions, RHP Properties now owns and operates 258 manufactured home communities totaling more than 64,341 home sites.