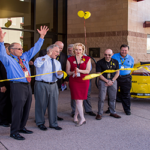 Truly Nolen's training for technicians and administration had been taking place in Phoenix at a location owned by the company. But, with the purchase of The Springs at William Centre, 432 – 442 South Williams Blvd., the Tucson-based company has now brought its training back to Tucson from Phoenix.
Since January 2014 Truly has occupied 434 S Williams Blvd while constructing an additional 12,000-square-foot building next door and letting the leases run out on the remainder of the buildings.
Lloyd Construction Company, Inc. handled the new construction and Wednesday an official ribbon cutting ceremony took place.
Michelle Nolen Senner, Truly Nolen Director of Marketing & Philanthropy, gave welcoming remarks to those in attendance.
Tucson's Mayor Jonathan Rothschild was also on hand to show the City of Tucson's support for the business expansion.
Scott Nolen, Truly Nolen CEO/President inspired everyone with his speech, "The Leader in All of Us" followed by Nancy Heiser, representing Congresswoman Martha McSally, 2nd Congressional District, Arizona.
Greg Weatherly, Truly Nolen Executive Vice President, also presented a check for $10,000 to the Tucson Boy Scouts of America for our title sponsorship of their Pinewood Derby prior to the official Ribbon Cutting.
Mark Irvin, CCIM, and Janine Irvin, CCIM, of Mark Irvin Commercial Real Estate Services in Tucson represented the seller. Greg Boccarda, CCIM, of Boccardo Realty represented Truly Nolen in the property acquisition November 2013.
Truly Nolen is the largest family-owned pest control company in the United States and the oldest, first licensed company in Arizona. With more than 80 branch offices in Arizona, California, Florida, Nevada, New Mexico, Texas and Utah, the company also has independently owned and operated franchises in more than 60 countries.
To learn more see RED Comp #1388.