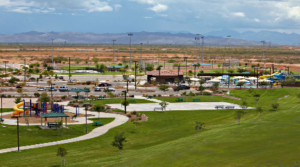 RED ROCK, ARIZONA — For the first time in over a decade, Red Rock Village will have a new home builder. As the master-plan looks to a brand new launch under the direction of Sunbelt Holdings, Richmond American Homes has announced construction of a model complex in Village IV located at the SW corner of Red Rock Road and Treasure Road. Richmond will be offering a mix of single and two story floor plans that range in size from 1,240-2,630-square-feet. The model homes are scheduled to be completed in August and pricing will be available at that time as well. The community will feature Richmond American's Seasons product which caters to the entry-level demographic.
Some of the home features will include:
9′ main-floor ceilings
Tech centers and lofts (per plan)
Open Layouts with center-meet patio doors
Hundreds of ways to personalize with fixtures and finishes
Optional Kitchen layouts (per plan)
For more information about Richmond American Homes Seasons product at Red Rock Village, please visit their website at: https://www.richmondamerican.com/arizona/tucson-new-homes/red-rock/seasons-at-red-rock. Floorplans will also be posted soon, so continue to check back.
Red Rock Village was purchased by Sunbelt Holdings in 2018 and the developer sold the initial 91 lots to Richmond American Homes at the end of 2019. The relaunch of this community has begun with Richmond American Homes and will ultimately include other homebuilders with a variety of product and price points. The project is a 10 minute drive north of Marana and is conveniently accessed at the Red Rock interchange along I-10. The community has over 850 homes constructed to date and Sunbelt Holdings is eager to continue this momentum with an estimated 2,500 future lots to be developed. Sunbelt is preparing to follow up on Richmond American Homes grand opening with new approved subdivision plats showcasing 40′ and 45′ lots. These lots are currently being marketed and Sunbelt Holdings will be announcing additional homebuilders in the next few months. Land Advisors Organization is handling the marketing of the lots at Red Rock Village.
Real Estate Daily News asked Bob Bambauer, Executive Vice President of Sunbelt Holdings, about the announcement at Red Rock Village.
"We have been pleased to see the Tucson housing market show real strength during the 2020 spring selling season considering ever-changing headwinds," said Bambauer. "We are more and more excited about Red Rock Village and the role it will play in Tucson's market. We are thrilled to have partnered with Richmond American Homes on the first new phase of Red Rock Village and to have their model construction underway. Sunbelt Holdings is committed to advancing the project and we are excited to roll out several new plats over the next 24 months. We will make sure we have lots ready for homebuilders so they can count on a streamlined supply."
"Red Rock Village's draw is it's focus on affordability in a highly-amenitized community, all things for which our Tucson homebuilder partners have been asking." Bambauer added. "It is exciting to see this community come roaring back to life. As the supply remains extremely tight in Tucson and home prices continue to climb, Red Rock Village looks to provide the solutions homebuilders and consumer will be looking for."