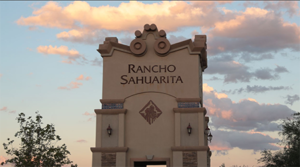 SAHUARITA, ARIZONA -- Nestled between the beauty of nature in neighborhood parks and the nearby convenience of the Rancho Sahuarita Marketplace, Entrada Del Rio at Rancho Sahuarita offers future residents a picture-perfect new neighborhood. Its name reflects the beauty and magic of its namesake; the river.
Entrada Del Rio is the latest community in Rancho Sahuarita that opened earlier this year. Richmond American Homes and Meritage Homes acquired an aggregate of 128 SFR lots in October, for a total of $7.52 million.
Richmond American closed on 87 lots for $5.2 million ($59,669 per finished lot). This was the second acquisition for Richmond here that started with 42 SFR lots last year when the community was opening.  Lots are 45' and 50' wides.
Richmond's new home offerings feature ranch and two-story plans engineered to maximize space and comfort with 9' main floor ceilings, open layouts with center-meet patio doors, available lofts and tech centers per plan, and much more. Homes will range in size from approximately 1,810 – 2,630 sq. ft., 3-6 bedrooms and 2 to 3-car garages.
Meritage Homes recently joined the homebuilders at Entrada Del Rio and acquired 41 SFR lots for $2.33 million ($56,697 per lot). Lots are mostly 45' wide.
Lennar Homes was the first builder to enter the market and continues building its 82 homes. This brings the total number of lots sold to date at Entrada Del Rio to 252 lots a community that will eventually comprise nearly 558 new homes planned to open in various phases.
Residents at Entrada Del Rio will find enjoyment and fun flowing through the nearby Parque Del Rio neighborhood amenity, complete with its own pool, spa, playground, sport courts and more. It's also close to linear parks, the famous Safari Trail, and Butterfly Garden. Plus, Rancho Sahuarita's two newest amenities, the Flamingo Splash Pad and Armed Forces Tribute, are both literally in the backyard of this neighborhood.
See RED Comp #7245 and #7280.