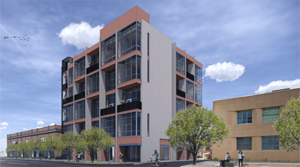 TUCSON, ARIZONA – The Rio Nuevo Board of Directors moved ahead with a $9 million mixed-use project at East Broadway and South Arizona Avenue.
The Board unanimously voted to advance the Julian Drew Lofts with a $1.75 million, 25-year loan to Ross Rulney, the project's developer. If construction costs warrant it, the district could contribute another $100,000. The deal is contingent on an economic study of the project and other negotiations with the Board.
The five-story complex at 140 E. Broadway, in the historic Julian Drew block, will house 3,350- square-feet of retail on the ground floor and 44 loft rental units in the upper floors. The units will have 16-foot ceilings in order to accommodate lofts that will be built over each kitchen. See Real Estate Daily News Additional Apartment Units Proposed for Downtown Tucson in Two New Projects
A second-floor roof terrace in the building will extend to the east to offer a common space for residents and access to the top floor of the Julian Drew building.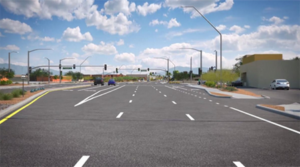 In other business, the Board unanimously voted to pay $168,900 for a parcel at 1703 E. Broadway Blvd as part of the Sunshine Mile project.
Sunshine Mile is designed to improve Broadway Boulevard between Euclid Avenue and Country Club Road. The project, in connection with the City of Tucson's plan to widen Broadway from four to six lanes, will offer opportunities for future development and historic preservation and increase the possibilities to create unique, inviting and activated space for the community.
Improvements along Broadway will include bike lanes, sidewalk improvements and landscaping.
In a development on the 75 E. Broadway project, Marcel Dabdoub, who is working with Peach Properties to build a 12-story, mixed-use building on the site at East Broadway Boulevard and South Sixth Avenue, shared with the Board of Directors that developer/general contractor JE Dunn would like to transfer its ownership share in the project.
The development would include two stories of retail, five parking levels with approximately 350 parking spaces, and five floors of office space. Dabdoub said the parties are negotiating a purchase agreement that they hope to have drafted and executed next week. See Real Estate Daily News Board approves lease-purchase of 75 E. Broadway for new office tower.
The Board will discuss the negotiations at its next meeting.
More information on these projects and Downtown can be found at RioNuevo.org.