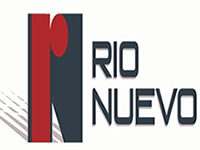 TUCSON, ARIZONA — The Rio Nuevo Board last week unanimously approved a motion to authorize its executive officers to finalize and execute the $43 million loan package issued by Rio Nuevo to finance the construction of Caterpillar's Tucson Mining Center.
The entire $43 million plus interest will be passed on to Caterpillar by the terms of a multi-year lease. At its regular board meeting, the Board approved the next phase of construction for the Tucson Mining Center totaling approximately $7.4 million dollars for the foundation work to begin November 1, 2017. Sundt Construction reported that the project is on time and on budget.
The Board also approved its executive officers to finalize and execute the final terms of an agreement with Flores Concepts to reinvigorate three downtown properties, investing as much as $250,000 with Ray Flores of Flores Concepts, which plans to assume control of one closed nightclub, one operating club and an adjacent vacant building.
The Flores family, responsible for El Charro Café, Charro Steak, Sir Veza's Taco Garage and the Stillwell House & Gardens, negotiated an agreement to buy out the lease interest of the H2O Discotec at 61 E. Congress St., Zen Rock nightclub at 121 E. Congress St. and the former Betty Gay building at 125 E. Congress St. Flores Concepts intends to renovate, re-brand and reopen all three establishments.
Recently, the Board also authorized a Request for Proposal to be issued in conjunction with the development of Pima County's parking lot at 77 E. Broadway Blvd., between North Scott Avenue and South Sixth Avenue and north of the Tucson Electric Power headquarters. The District will seek competitive proposals offering to develop a high-rise, mixed-use project to include retail, parking and Class A office space. The District has an option to lease or buy the property from Pima County and, consistent with the District's current public/private partnership investments, will look for a private sector partner to develop the project.
The Board also authorized the hiring of a project manager for improvements to Ochoa Street as part of the Cathedral Square project.
The creation of the Rio Nuevo Multipurpose Facilities District was approved by Tucson voters in 1999, along with an appointed Board, to invest state tax dollars in public and public/private projects to create a vibrant Tucson core. For every dollar the Board invests, the community reaps $10 of construction activity with projects like the AC Hotel Tucson by Marriott, the Arena, Greyhound, the Mercado Annex, City Park, the Marist project and Caterpillar. For more information, visit http://rionuevo.org.