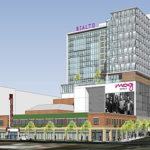 TUCSON, Ariz. – The Rio Nuevo development district is moving ahead on five (yes five!) hotel projects that will add almost 600 additional rooms in Downtown Tucson.
One is on the Tucson Convention Center Campus and is a Hilton branded hotel (170 rooms) being developed by Caliber Co.
Another is a dual-branded hotel by Cathedral Square.  It backs up to the Scottish Rite Temple, on a lot on Stone Avenue, across from the Cathedral and about a block and a half from the Tucson Convention Center, a Dallas-based hotel developer is going to build a combination hotel, part Hampton Inn and part Home2 Suites. Both of these are also Hilton branded hotels being developed by Faywood Development with 177-rooms (75-rooms Hampton Inn and 102-rooms Home 2 Suites).
And there is more to the downtown hotel boom.
Finally, the most iconic Rio Nuevo is doing is helping kick off on the Rialto Block – across the street from Hotel Congress.  It is 247-rooms and a dual-branded hotel but 2 different hotel brands being developed by Scott Stiteler's group.
The Moxy (by Marriott) will have 109-rooms and Element (by Westin) will have 138-rooms.  It will be across the street from the new AC Marriott hotel we opened last year.  It is the number one AC Marriott in the country.  It will be 16-stories is expected to cost $88 million.
The Rialto Theater is almost a hundred years old.  Rio Nuevo approved incentives to go ahead with plans to close the Rialto for about two year.
"Instead of having a new building next to old building, they will be woven together without impacting the exterior of the Rialto Theater.  It will retain all of its' century old history, but there will be opportunities when you come into the new building to circulate into the theater that are quite fun." Stiteler envisions a lot of synergy between the two properties, including the possibility that guests who check into the Moxy will be able to look through a glass wall at the band playing on the stage of the Rialto.
Stiteler says the success of the AC Marriott encouraged him to pursue this new project across the street. Marriott executives are also pleased with the AC, according to Stiteler.
While the work's underway, the Rialto's shows will go on in temporary space—the old Corbett building on 6th Avenue just north of downtown.
Rio Nuevo's investment is in providing a sale-leaseback (GPLET) for 25 years and also providing a portion of the site specific taxes generated by each.  No out of pocket costs, other than legal fees, to Rio Nuevo.
Expect ground breaking on the projects by mid to late next year and completion 14 to 18 months thereafter.
The Rio Nuevo Board also moved along the 75 E Broadway development of JE Dunn.  The Pima County parking lot in the heart of downtown Tucson, is to become 12-story mixed-use development by 2020. In response to a Rio Nuevo RFP, developer JE Dunn proposed a 300-foot-tall building that could contain 250,000-square-feet of office space, 40,000-square-feet of retail space and parking for 500-600 cars. It would be the first Class-A building in downtown since the Tucson Electric Power building was built in 2011. The project is expected to cost $120M and will generate 1,250 new jobs and $2.2M annually in sales tax.