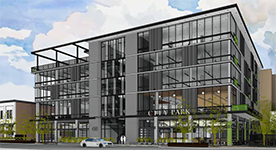 TUCSON, ARIZONA — The Rio Nuevo Board of Directors voted unanimously last week to contribute $1.289 million to an incentives package that convinced Swedish company Hexagon Mining to locate its North American Headquarters in downtown Tucson.  Tucson successfully competed nationally and internationally for this mining technology headquarters.  Rio Nuevo incentives will help fund offsite parking downtown for Hexagon and will defray Hexagon's first year of rent in the City Park project at 40 E. Congress in downtown Tucson.
Hexagon Mining will bring about 260 employees to its new downtown Tucson location. The company employs about 580 people worldwide.
"The economic impact of this move for Tucson is $250 million," said Fletcher McCusker, Chairman of Rio Nuevo.  "Rio Nuevo has proven again we can be a catalyst for corporate attraction to our rapidly evolving downtown. Hexagon helps establish downtown Tucson as one of the West's premier live, work and play urban environments."
Hexagon Mining is part of the multibillion-dollar Swedish IT group Hexagon AB (SS: HEXA B) that is a mining support and technology company. Hexagon brings surveying, design, fleet management, production optimization and collision avoidance together in a life-of-mine solution that connects people and processes.
"Our new downtown Tucson location and image is highly attractive for millennial talent from universities and abroad," Hexagon Mining President Hélio Samora said.  "We plan to benefit the entire Tucson region by hosting clients for training, sales presentations and events."
The creation of the Rio Nuevo Multipurpose Facilities District was approved by Tucson voters in 1999. Since 2010, the volunteer members of the Rio Nuevo Board have been appointed by the Governor and the State Legislature and have been working to invest state tax dollars in public and public/private projects to create a vibrant Tucson core.  It has been estimated that for every dollar the Board invests, the community reaps approximately $10 of construction activity with projects such as the AC Marriott Hotel, the Greyhound Bus Terminal, the Mercado Annex, City Park, the Marist project and Caterpillar's SM&T Headquarters.
For more information, visit http://rionuevo.org.