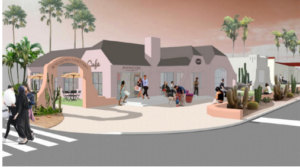 Chairman Fletcher McCusker set the tone for the Rio Nuevo Board meeting by proclaiming "People are expressing unbelievable confidence in the future of Tucson." The following discussion began with an update on the District's current ongoing construction projects that are all Public/Private Partnerships in which the funding has been secured from private lenders and therefore have not been affected by COVID-19 driven state revenue reductions. Those projects include:
The Bautista in the Mercado District
Hilton Hotel at Cathedral Square
Double Tree Hotel by Hilton at the Tucson Convention Center
Tucson Convention Center renovations
Broadway Bungalows and The Sunshine Mile
In a unanimous vote, the Rio Nuevo Board reactivated its pledge of $500,000 for renovations for both Rocco's Pizzeria and Lerua's – two restaurants that are key to the revitalization of the Sunshine Mile. Both projects will result in leases and site-specific sales taxes which will help fund future Rio Nuevo developments.
Rocco's Pizzeria will relocate to a 6,000 square foot building at 2635 E. Broadway that's about three times the size of its current location.
The new Lerua's will be located at 2243 and 2245 E. Broadway with about 6,000 square foot for a sit-down restaurant, a retail store for tamales and catering. The remodeling will be done in phases.
The Board also authorized the preparation of a request for qualifications to select potential development partners for renovations to the Bungalow Block, seven historic bungalows moved out of the way of the Broadway Blvd. widening project.
TCC Music Hall Improvements Moved Forward by unanimously approving the City of Tucson's proposal for Rio Nuevo to acquire the parking lot located west of the Music Hall to construct a new parking garage – a much-needed addition to the parking options for Music Hall attendees. "This is the final piece of the TCC to be upgraded" said Mark Irvin, Rio Nuevo Vice Chair..
More information on these projects and downtown can be found at
RioNuevo.org