T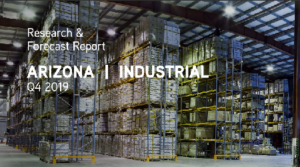 enant Demand and Strong Economy Fuel Expansion of Industrial Footprint
Phoenix, Arizona – The Greater Phoenix industrial real estate market has a very healthy equilibrium in the midst of bringing millions of new square feet to its inventory. Vacancy remains below 10 percent after the city added 6.4 million square feet of new space in 2019 and has another 10.5 million square feet under construction.
Greater Phoenix has a checkered history of overbuilding its real estate markets during strong economic times but appears to be avoiding that trend during this cycle. The city remains in the top five American metro areas in terms of job growth. During the 12-month period ending November 2019, employers added 56,500 net new jobs to the area, which helped fuel demand for industrial real estate. During the decade spanning from 2009 through 2019, Phoenix ranked 10th of large cities in terms of total employment growth with an increase of 29.7 percent.
Expanding companies in the area and businesses moving into this market have driven positive net absorption in the industrial market. During fourth quarter 2019, net absorption of industrial space totaled 1.64 million square feet, ending the year with a total of more than five million square feet of net absorption. Net absorption had a mild slowdown during the beginning of 2019 but picked up in the last three quarters. Warehouse and distribution space saw the highest net absorption in 2019 at 3.8 million and 735,000 square feet, respectively. The Southwest submarket represented 68.7 percent of the leases larger than 50,000 square feet in the fourth quarter. Vital Pharmaceuticals (376,760 SF), Hayward Industries (359,040 SF), and Delta Apparel (214,205 SF) all signed leases in the Southwest Valley.
Phoenix ranks as one of the fastest-growing data center markets in the nation. Our state tax incentives and a climate that offers few natural disasters have helped us become a hub for this type of space usage. Large tech companies like Microsoft, Apple, PayPal, and Verizon have all been attracted to our market. Microsoft began construction on two data centers in Goodyear that will total nearly a million square feet of space.
Projects under construction increased to 10.5 million square feet at the end of 2019. The Southeast Valley currently has 2.13 million square feet under construction, and Southwest has 5.9 million square feet underway. During 2019 the development market delivered 6.4 million square feet of space, which is a decline of 20 percent from 2018. Since the beginning of 2018, Greater Phoenix has added more than 14 million square feet of industrial space to its inventory. Fourth quarter 2019 brought more projects breaking ground than any quarter in the past five years.
The addition of new inventory is putting upward pressure on vacancy, which rose a minor amount during fourth quarter. Despite this pressure, vacancy across all submarkets remains well below 10 percent, with some variance based on building type. The market average is 7.1 percent vacancy, with manufacturing declining to 3.3 percent vacancy. Vacancy for industrial space has been in the low-to-mid seven percent range since the end of 2017. The largest increase in vacancy was found in the Southwest Valley where an increase of 160 bps occurred during 2019, elevating to 9.0 percent. This was largely due to 2.5 million square feet of new space coming online in the area. More speculative development will come online throughout the valley in the next few quarters, which will drive vacancy to near 7.5 percent.
New deliveries and relatively low vacancy rates are pressing rental rates up. Average asking rates rose 5.1 percent during the fourth quarter to $0.59 per square foot. The Airport submarket experienced the largest increase of 5.5 percent during fourth quarter to $0.72 per square foot. Low vacancies and the addition of new, more expensive product will lead rents to increase further during 2020. The overall average will likely reach the low-to-mid $0.60 per square foot per month by year-end.
Sales volume of industrial buildings decreased 43 percent during fourth quarter of last year, but 2019 overall brought an annual increase of 57 percent over 2018. During 2019 the market experienced $2.4 billion in sales with a median price of $105 per square foot. This is the second-highest price posted in recent years, just below Q3 2018 at $107. Cap rates compressed, falling 34 bps over the year to 6.54 percent.
The industrial market should continue its strong performance through 2020 as tenant demand drives healthy absorption rates and rent growth. Greater Phoenix is attracting industrial businesses at an impressive pace. The Loop 202 extension connecting the Southeast and West Valley areas will make transportation of goods through the city much more efficient and is one example of how Greater Phoenix invests in infrastructure to keep in pace with growth.
View market snapshot here: 2019 Q4 Industrial Snapshot 
For full market report here:  Arizona Industrial Report 4Q 2019