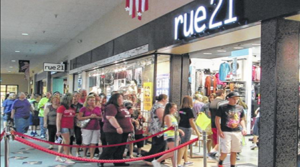 All rue21 locations in Southern Arizona to be shuttered

Warrendale, Pennsylvania-based teen clothing retailer rue21 is closing about one-third of its stores nationwide as it focuses more on its online business. The company made the announcement Saturday, April 15, with a note on the company's website and Facebook.
As reported earlier this month, the company entered into forbearance over missing interest and amortization payments. At that time, the retailer's debt was leveraged at more than 10 times its capital structure, and it was facing high interest rates while looking for new funding. The company's debt was estimated around $824 million at the beginning of April, according to a Debtwire.com report.
Rue21 has more than 1,200 stores across the United States and will be shuttering nearly 400 stores, including 14 in Arizona and all six in southern Arizona, leaving it with more than 700 stores in 48 states.
In the Facebook post, it called the decision to close the stores "difficult but necessary." Like many brick-and-mortar retailers, it has been battling declining mall traffic amid strong competition online.
The company didn't say how soon the stores will close, though its website is promoting store-closing sales in the following Arizona stores:
Tucson
Tucson Mall, 4500 N. Oracle Road
Tucson Spectrum, 5373 S. Calle Santa Cruz
Foothills Mall, 7401 N. LaCholla Boulevard
Casa Grande
The Promenade at Casa Grande, 1269 N. Promenade Parkway
Nogales
Nogales Plaza Shopping Center, 460 N. Grand Court Plaza
Sierra Vista
The Mall At Sierra Vista, 2200 El Mercado Loop
Anthem
Outlets At Anthem, 4250 W. Anthem Way
Flagstaff
University Plaza, 1131 S. Plaza Way
Lake Havasu
Mesa
Mesa Riverview, 849 N. Dobson Road
Payson
Rim Country Mall, 400 E. Highway 260
Peoria
Lake Pleasant Tower Center, 25546 N. Lake Pleasant Parkway
Queen Creek
Queen Creek Marketplace, 21506 S. Ellsworth Loop #108
San Luis
San Luis Shopping Center, 582 E. Piceno Drive
To check for store closures go to https://stores.rue21.com/search.html