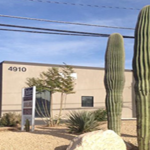 SAJE Investments, LLC (Drs. Jim and Susan Stofft, DVM) purchased a 3,220-square-foot medical building at 4910 N. Sabino Canyon Road in Tucson for $625,000 ($195 PSF) from Sabino Canyon Investments, LLC (Ronald Kline, manager).
The property was vacant at time of sale. The buyer operates Sabino Veterinary Care currently at 4960 N Sabino Canyon and plans to renovate the new property for a veterinary clinic for relocation at an estimated cost of $350,000.
Michael Hennessy and Katie Cline of Burris, Hennessy & Co. in Tucson represented the buyer and Andrew D. Sternberg of Oxford Realty Advisors in Tucson represented the seller in the transaction.
To learn more Hennessy can be reached at 520.906.0500 and Sternberg should be contacted at 520.232.0200.
See also RED Comp #3130 for additional information.