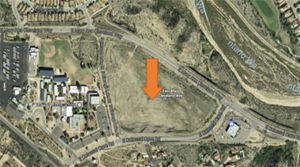 TUCSON, Arizona — After years being on hold, Safeway has closed on a 7-acre site at Mercado del Lago. Safeway has been eyeing this site for many years, waiting for the grocery store market to stabilize, and is now ready to begin construction. Located in southeast Tucson, at the intersection of Colossal Cave Road and Mary Ann Cleveland Way, the property commanded a sale price of $2.6 million ($8.53 PSF).
Construction of the 55,000-square-foot Safeway and a fueling station is slated to begin June 19th for an early 2018 grand opening, according Jan Martin of Safeway's Real Estate Department.
Mercado del Lago is a promising shopping center located at the doorstep to growing Rancho Del Lago master planned community,  for residents in the Vail and Corona de Tucson areas who have been waiting for a grocery, it is finally going to happen!
Currently the closest shopping options for those living in Rancho del Lago are in Rita Ranch, and for residents of Corona de Tucson the new Safeway will be a much-welcomed relief.
Without the Safeway, the entire Mercado de Lago project has been on hold. In addition to the Safeway, the center is back on track to having 16 to 20 other tenants, including a possible McDonald's, a bank branch, as well as office buildings, shops and other restaurants on this 22-acre total parcel.
The seller of the Safeway site is also the developer of Mercado del Lago, Davidson Investments, Gary Davidson, principal. There were no brokers involved in the transaction.
To learn more, see RED Comp #4810.