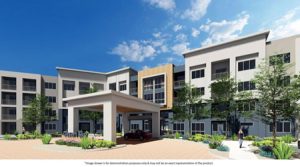 MARANA, ARIZONA (May 9, 2023) – Marana Leased Housing Associates I, LLP an affiliate of Dominion Apartments, Inc. of Plymouth, MN bought 18.58 acres at 8695 - 8740 N Silverbell Road in Marana for an affordable multifamily site approved for 200 units.
The asset closed on April 18, 2023, for $3.85 million ($4.76 PSF).
The seller, COPE Properties, purchased the land in 2018 with the intent to build affordable housing and sold it with entitlements for the construction of Safford Apartments with 200 units.
The buyer, Dominium is one of the nation's most innovative affordable housing development and management companies. Dominium is focused on real results and long-term value. The company builds and manages high-quality, affordable housing across the Untied Sattes. With 50 years in business, Dominion manages more than 38,000 apartments in more than 220 properties in 19 states, employing more than 1,200 professionals committed to helping solve the affordable housing crisis.
This will be the company's first affordable housing project in Tucson metro area.
Pat Welchert with Alpha Commercial Real Estate and Jason Hisey with The Hisey Group, both of Tucson represented the seller.
For more information, Welchert can be reached at 520.360.9394 and Hisey is at 520.331.3533.
To learn  more, see RED Comp #10630 and #5522
PHOTO: Casa Azure in Phoenix, is a 55+ affordable housing project opening soon.