Saguaro Ranch of Tucson Offers 'Best of the Best' Luxury Community Living in Arizona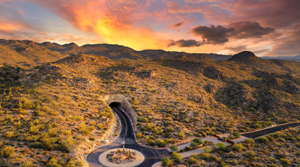 MARANA, ARIZONA – I recently toured the prestigious gated community of Saguaro Ranch with roads and infrastructure in place,  is starting to take shape in becoming the most prestigious luxury home community in Arizona. From the moment you enter the 1100+ acre majestic Sonoran Desert community through a 600-foot tunnel, the length of two football fields, until you reach the Owners' Club next to Moonlight Canyon, you know you are entering a unique, resort-style living community.
Saguaro Property Development LLC, Scott Lundberg and Brian Peschel development partners, bought the community in 2019 with a vision to make it the "Best of the Best" in luxury, natural desert, community living, a dream come true! Located at the northern end of Thornydale Drive in the Tortolita Mountains, north of Tucson.
The owners recently entered into a partnership with Miramonte Homes for development of Moonlight Canyon that features 43 one- to two-acre homesites on various levels of the mountain slopes at extremely reasonable prices. Buyers considering a Moonlight Canyon at Saguaro Ranch residence will be able to select from four thoughtfully designed semi-custom floor plans ranging from approximately 2,800- to 3,800-square-feet.
Chris Kemmerly, Prinicpl and CEO of Miramonte Homes calls it a 'one-of-a-kind community' unlike anything in the western United States in that only 20 percent of the land is designated for development and 80 percent preserved as undisturbed natural desert.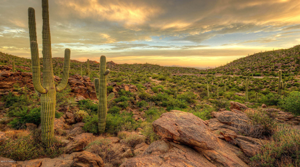 Robinette Architects, Inc., an award-winning local firm, designed the new Saguaro Ranch Owners' Club, which was the former renowned McClintock's Steakhouse.
Tucson-based Aqua Design International, a Landscape Architecture firm specializing in the design of swimming pools, spas and water features completed the design for the new Saguaro Ranch Owners' Club pool and spa complex. Aqua Design International has designed some of the most iconic pool complexes in the world, including Amangiri, Four Seasons Punta Mita, Four Seasons Anguilla, Omni Tucson National, Loews Santa Monica Beach Resort, and more.
Club amenities will include a multi-lane 25-yard lap pool with intimate spa for a relaxing and soothing atmosphere, two pickle ball courts, a bocce ball court, fitness center, catering facilities, and club area that inlcudes numerous outdoor patios with umbrellas and firepits designed for stargazing in the phenomenally clear night sky.
The New Owners' Club is slated to open early 2021.
Tours are designed for social distancing and are an outstanding example of how social distancing doesn't have to mean boredom. Visitors are encouraged to bring camp chairs and stop for the views overlooking Tucson and all its surrounding mountains with a picnic lunch, or enjoy a spectacular sunset on Pusch Ridge with a bottle of wine!
To learn more, contact Mike Conlin with Miramonte Homes at (520) 429-4773 to be put on the guest list and to arrange your own tour. Brokers are protected.