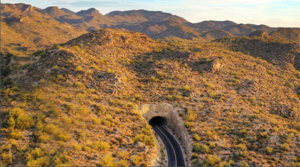 Progress continues to move along nicely on the new luxury Saguaro Ranch Owners' Club.  Construction is beginning on the new pool and spa complex.
Tucson-based Aqua Design International, a Landscape Architecture firm specializing in the design of swimming pools, spas and water features completed the design for the new Saguaro Ranch Owners' Club pool and spa complex. Aqua Design International has designed some of the most iconic pool complexes in the world, including Amangiri, Four Seasons Punta Mita, Four Seasons Anguilla, Omni Tucson National, Loews Santa Monica Beach Resort, and many more. Robinette Architects, Inc., an award-winning local firm, designed the new Owners' Club, which includes the former McClintock's Restaurant, and has some of the Club's most sought-after amenities in southwest Arizona including:
A multi-lane 25-yard lap pool with intimate patio, pools, and spa for a relaxing and soothing atmosphere.
Yoga area.
A sophisticated rooftop fitness suite promoting wellness and community.
Seating area with a two-sided fireplace showcasing stunning 180° views.
Sunshades and outdoor firepits.
Pickleball courts, bocce ball and horseshoe pits.
View tower with pool restrooms/showers on ground floor.
Swim up bar and outdoor BBQ grill area.
Owner's wine lockers.
Catering facilities.
Billiards room.
Owner's bar & club area.
Amphitheatre to host events, music, lectures, and concerts.
The New Owners' Club is slated for completion by the end of year 2020.
Check out rendering video of the new Owners' Club
And the current progress
Take a Self-Driving Tour of Saguaro Ranch. designed for social distancing and an example of how social distancing doesn't have to mean boredom.  We encourage agents and clients to grab a camp chair and stop for the views overlooking Tucson and all its surrounding mountains with a picnic lunch or enjoy a spectacular sunset on Pusch Ridge with a bottle of wine!
Where? Saguaro Ranch is located at the northern end of Thornydale. Drive through the tunnel and your tour will begin at the gatehouse where you'll get a map and descriptions of the drive.
How much time should you allow?  While our speed limit is just 15 mph, you can drive through Saguaro Ranch in about 20 minutes. However, we think everyone will be tempted to stop along the way, take a few pictures, walk a few of these park-like lots for sale and enjoy the peace and quiet of the unique, sanctuary setting.
What will your clients see? Some of the most beautiful homes in Arizona, designed by the likes of Ron Robinette, Mike Franks and Michael Bratton.
And best of all, they'll see nine Estate Lots that are available right now.
There's no need to make an appointment or schedule a time, but please contact Mike Conlin at (520) 429-4773 or email him at MConlin@SaguaroRanchAZ.com so your clients' name will be on the guest list and he'll have a packet waiting for them when they arrive. Brokers will be protected.