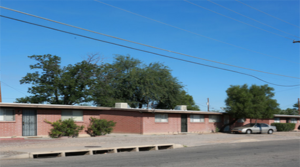 TUCSON, ARIZ.– Multi-Family specialists Neil Davis, Mike Chapman and Justin Lanne with NAI Horizon, Tucson negotiated the sale of a 24- unit apartment complex for $1.9M or $79,166 per unit. The complex is currently 100% occupied and consists of 12 identical duplex buildings with large backyards and washer/dryer connections.
Sahuara Avenue Apartments is located at 1312 S. Sahuara Avenue, Tucson, Arizona and was built in 1964 of masonry construction and a unit mix of all two-bedrooms / one-bath units.
The NAI Horizon Tucson team represented the seller, PHM Saguaro Apartments, LLC (Thomas Heeringa, manager) and Brian Wareing with Centurion Management of Scottsdale represented the buyer, Zachar Properties, LLC (Christopher Zachar, manager) in this transaction.
For more information, Chapman should be reached at 520.591.5188, Lanne can be contacted at 520.907.3470, Davis is at 520.398.4984 and Wareing can be reached at  480.505.9330.
To learn more, see RED Comp #8008.