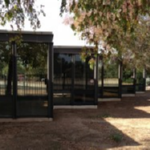 The Doyle Building, a 2,100-square-foot, single-level, mid-century modern office building, designed by award-winning architect Gerald A. Doyle and located in Midtown Phoenix, sold this week for $260,000 ($123.81 PSF).
Sid A. Rosen of Phoenix was the seller of the Midtown property at 4331 N 120th Street, Phoenix, that sold to a private Arizonan investment group. Natan Jacobs and Les Litwin with Vestis Group of Phoenix represented the buyer in the transaction.
Scott Fey with Omni American, LLC in Phoenix represented the seller.
The Doyle Building is a single-level, mid-century modern office, built in 1973. It has a flat roof and is a combination frame/stucco with exposed steel beam construction, freestanding office building. The unit mix is comprised of three separate but interconnected suites, including 2 suites of approximately 500-square-feet and one suite of approximately 1,100-square-feet.
Located just minutes from the "Golden Corner" of 24th Street & Camelback, Camelback Corridor, Downtown Phoenix, Sky Harbor International Airport and numerous Valley hotspots, including: Postino WineCafe, Oregano's, St. Francis, Windsor, Little Cleo's at The Yard, Culinary Dropout at The Yard, Taco Guild and Starbucks at Old School 07. The property is approximately one-half mile south of Camelback Road along 12th Street, allowing easy access to the Biltmore Fashion Park, the Camelback Corridor, the Valley freeway system and numerous employers.
Jacobs and Litwin with the Vestis Group can be reached at (602) 387-5330. Fey with Omni American can be contacted at (602) 956-6060.