Historic Adaptive Reuse Project in Downtown Phoenix's Roosevelt Row Arts District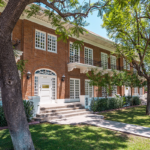 Phoenix, AZ – ABI Multifamily, a dedicated multifamily brokerage and advisory services firm, is pleased to announce the $1.165 million ($97,083 per unit) sale of the Historic Power Apartments located in Phoenix, AZ. Originally built in 1914 as apartments, the property was converted and has been run as an office building for many years. The new owner intends to revert the property back into a 12-unit apartment community.
"Although there are many new apartment developments occurring in and around the downtown Phoenix area, none are gathering as much interest as adaptive reuse projects," states Alon Shnitzer, Senior Managing Partner at ABI.
"True historic, multifamily adaptive reuse projects are in extremely limited supply in the Phoenix Metro and resident interest in these particular projects is exponential. The new owners intend to capitalize on this latent demand and convert this historic gem back to its original intended use."
The property is located in the highly desirable Roosevelt Row Arts District. The District is truly a one-of-a-kind in metro Phoenix with historic and modern buildings on tree lined streets with businesses, neighborhood services and residential. Power Apartments is within walking distance to the Roosevelt and Central Phoenix Light Rail Stop, allowing residents easy access to the rest of the valley. In addition, Arizona State University's Downtown Campus and the University of Arizona's College of Medicine are within walking distance from the property. Entertainment attractions nearby include the Orpheum Theatre, Phoenix Art Museum, Heard Museum, Herberger Theater Center, Phoenix Convention Center, Arizona Science Center, Chase Field and US Airways Center.
"Over the last 10-15 years, the new ASU Downtown Campus, BioMedical Campus, Convention Center, Light Rail and CityScape have all contributed a great deal towards the vibrancy and momentum of Downtown Phoenix. Sensing the area was ready to take-off, the Seller acquired multiple downtown assets over the last few years and recently began capitalizing on those investments. The Seller's timing was very good," quotes Eddie Chang, partner with ABI.
The buyer in this transaction, SBD Ventures, LLC, based in Phoenix, AZ, is an experienced Phoenix Metro multifamily investor and adaptive reuse specialist.
The seller in this transaction, Historic Power Apartments, LLC, based in Phoenix, AZ, is an experienced real estate investor who during the downturn acquired many historic properties in downtown Phoenix, AZ.
The Phoenix based ABI Multifamily brokerage team of Alon Shnitzer, Eddie Chang, John Kobierowski, Rue Bax and Doug Lazovick represented both buyer and seller in this transaction.
To learn more Kobierowski is reachable at 602-714-1384, John.Kobierowksi@ABImultifamily.com; Shnitzer is at 602-714-1283, Alon.Shnitzer@ABImultifamily.com; Bax can be reached at 602-714-1406, Rue.Bax@ABImultifamily.com; Lazovick is at 602-714-1388, Doug.Lazovick@ABImultifamily.com; and Chang should be called at 602-714-1398 Eddie.Chang@ABImultifamily.com