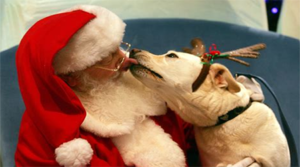 TUCSON, AZ – Join the Humane Society of Southern Arizona (HSSA) for Pet Santa Photos Saturday, November 10th from 10am to 2pm at HSSA Main Campus at 635 W. Roger Rd.
Well-behaved and vaccinated dogs are encouraged to come meet Santa. Come dressed to impress or request that your pet gets a solo photo with Santa. Photos are only $15 each and they will be emailed directly to you in time to send out your Christmas card.
New this year, Pet Santa Photos will be taken at HSSA's new home at 635 W. Roger Rd. While you're there, enjoy browsing the pet supplies and pet-themed merchandise. All purchases are tax-free and the proceeds go towards caring for the homeless pets at HSSA.
"This is one of my favorite events of the year. I love seeing all the pets who come dressed up. We bring our dogs each year to get their photo taken with Santa and use it as our Christmas card. It's a great feeling knowing we are supporting the homeless pets at HSSA," Diana Canon, Chief Development Officer.
Reserve your spot today at  www.HSSAZ.org/SANTA. For more information contact HSSA's Event Manager, Steff Hunter, at shunter@hssaaz.org or 520-327-6088, ext. 188.