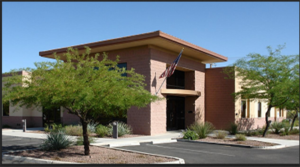 TUCSON, ARIZONA – Scarritt Group (Adrienne Williams, manager) purchased the 11,005-square-foot office building at 7630 North Oracle Road in Oro Valley for $2.2 million ($200 PSF) from the builder and developer, Rio West Development and Construction (Walter Hoge, manager) to owner occupy.
Scarritt Group is a global innovative meeting planning and logistics company specializing in clinical meetings. Founded in 1999, Scarritt Group has executed over 8,000 meetings worldwide. Scarritt is committed to providing clients an unparalleled experience. Scarritt's staff has extensive meeting planning knowledge, hotel industry experience, and access to the best resources and technology worldwide.
Scarritt delivers meetings that exceed client expectations, while giving attendees a memorable and unique experience.
Located in Suffolk Hills, the buyer is moving from 7636 N Oracle in the same office complex, to this larger building and has leased its former 8,194-square-foot office to Electronic Design & Development Corp. (ED2).
ED2 is a local startup, was founded by Sergio Cardona, that develops high-performance and low-cost components for next generation, 5G wireless networks.  The company is funded by Tucson-based DVI Equity Partners, LLC, a venture fund founded last year by Diamond Ventures and led by Bob Griffin, managing partner. DVI recently announced a $2.6 million private-equity investment in ED2 for the company's first round of funding.
Thomas J. Nieman, Principal and Office Specialist with Cushman & Wakefield | PICOR, represented the seller, Rio West, in the sale and Scarritt Group as landlord, in the leasing of its former building. Tom Hunt with Tango Commercial Real Estate of Tucson represented ED2 as tenant at 7636 N Oracle Road.
For more information Hunt can be reached at 520.288.1231 and Nieman should be contacted at 520.546.2728.
To learn more, see RED Comp #7170.