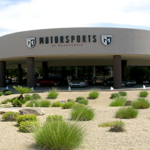 SCOTTSDALE, AZ – The 23,923-square-foot Motorsports of Scottsdale building at 8053 E. Raintree Dr., Scottsdale sold for $5.85 million ($244.53 PSF). The transaction closed on June 10.
Lee & Associates Principal, Mark Linsalata represented the seller Rose Commercial Group/RCG, LLC, Scottsdale while Mitch Stravitz of CBRE represented the buyer, The Mack Co., Phoenix.
Built in 2003, the freestanding dealership facility sits on approximately 2.4 acres within 3 blocks of the Loop 101 Freeway. It features a display/showroom, a service department, offices and a separate detail 1,848-square-foot building on site. The property is 100% occupied currently;  zoned C-3 it offers many options for redevelopment potential.
For more information, Linsalat can be contacted at 602.912.3539.