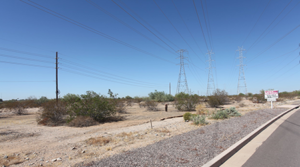 SCOTTSDALE, Arizona –  Two separate commercial land transactions totalling 19- acres, one in Scottsdale and one in Glendale, sold for a combined $6,294,390.
Lee & Associates Principals, Robert Kling and Dave Johnson negotiated both sides of each deal.
An 11-acre parcel in the D.C. Ranch Corporate Center, 17492 N. 91st St., Scottsdale, sold for $4,350,000 or $9.10 per square-foot. The buyer was CH Realty VII_WPC, I Phoenix and the seller was SWVP DC Ranch, LLC, Scottsdale.
An 8-acre parcel at the SEC of 107th Ave. & Northern Ave., Glendale was sold for $1,944,390 or $5.50 per square-foot. Swire Pacific Holdings, Inc., Draper, UT purchased the property. AZ Investment, LLC, Omaha, NE, was the seller. This property will be used for an expansion for the Coca Cola bottling plant in the Glendale Airport.
For more information, Kling can be reached at 602.954.3751 and Johnson is at 602.954.3745.