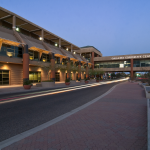 Galleria Corporate Centre, a Class-A, mixed-use office and retail project, located at 4301 and 4343 N. Scottsdale Rd. in Scottsdale sold for $68.6 million ($128 PSF) for the 537,110 square-foot complex.
Jim Fijan and Will Mast with CBRE's Phoenix office represented J.E.M.B. Realty Corporation, a New York City-based company (Joseph Jerome, CEO) who sold the building to a joint venture between Stockdale Capital Partners (Steven Yari, managing partner) and funds managed by Oaktree Capital Management, L.P.(Howard Marks, president), both of Los Angeles, CA.
"Scottsdale Galleria has evolved into one of the most prominent mixed-use developments in the entire Phoenix-metro marketplace. The property fosters a unique atmosphere that you can feel as soon as you walk in the door, which stems from a dynamic, tech-centered tenant rent roll and the energy of an urban, downtown Scottsdale location," said Fijan. "It's always exciting working on projects of this caliber, but even more so when the parties involved are as innovative and future-centered as the project in which they are investing. The team effort from Stockdale Capital Partners and Oaktree Capital Management was really heartening to see and they were great to work with. Scottsdale Galleria is in good hands."
"Given our history and presence in Scottsdale for over 20 years we are excited about further investing into the community at such a compelling time in the market. Our partnership with Oaktree makes us equally excited and we look forward to making this investment opportunity a success for everyone involved," said Steven Yari, Managing Partner of Stockdale Capital Partners.
Galleria Corporate Centre was almost 90% leased at time of sale and is home to large national tenants like McKesson Corporation, Yelp, SAP, Sagicor, Scottsdale Culinary Institute and CA Technologies. Galleria's strong leasing history is the result of its strategic location just south of the intersection of Camelback Road and Scottsdale Road, the most high-profile intersection in Scottsdale. The property is known throughout the Valley as a premier technology hub in Scottsdale reflecting the vibrancy and global direction of cutting edge technologies.
Built in 1991, Galleria Corporate Centre was originally developed and operated as a regional retail mall. The property was purchased by JEMB for $29.5 million and renovated in 2001 when it was converted into two separate designated buildings. 4301 N. Scottsdale is reserved for both office and retail use, while 4343 N. Scottsdale is reserved for office-only use. The property is also equipped with an adjacent ten-story parking garage and two levels of underground parking below 4343 N. Scottsdale.
Fijan and Mast at CBRE can be reached at (602) 735-5555. Jerome with JEMB should be contacted at (212) 699-4444. Yari at Stockdale Capital is at (310) 475-5819, to contact for more information.