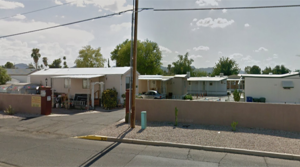 TUCSON, Arizona — Affiliates of AFK Real Estate Investments, LLC of Scottsdale (Angus Keith, manager) sold the Terra Vista Estates mobile home park in Tucson, AZ for $7.45 million ($58,200 per unit) to a Washington state investor, Terra Vista MHP, LLC, of Seattle, WA (Kazuo and Carol Yamada, members).
Tucson has a strong established manufactured housing community, dominated by the 55+ sector, with snowbirds attracted to Arizona's favorable winter climate and Tucson's easy living style. This is a first investment in Arizona for the Seattle buyer.
Located at 3833 North Fairview Avenue, Terra Vista Manufactured Housing Community is an age restricted (55+) community on 14.5 acres in the Central submarket of Tucson, with 128 manufactured home sites and no permanent structures. A small building serves as the property's leasing office and is adjacent to outdoor recreational activities.
The property was developed in 1970 and 90% of the units are owner occupied, except for the leasing office, manager's home and another dozen units which are owned by the property.
In 2015, the seller refinanced Terra Vista with Hunt Mortgage Group for a $4.5 million Fannie Mae loan and the buyer was able to assume that existing loan in this transaction.
The original loan was a 10-year term with 5-years interest only, amortized over a 30-year period with a 9.5 year yield maintenance period. The borrower, AFK Real Estate Investments, LLC, is a Delaware limited liability company backed by Angus Keith.
The seller had purchased Terra Vista in 2005, and owns another four manufactured housing communities with a total of 670 sites.
Douglas Danny, senior vice president, and associate, Braeden Jehle, both manufactured housing experts with Marcus & Millichap in San Diego, brokered the deal for the seller and were integral in the negotiations.
Jonathan Bench, senior associate with Marcus & Millichap of Seattle, represented the investor.
For additional information, Danny can be reached at 858.373.3222, Jehle should be contacted at 858.373.3152, and Bench is at 206.826.5755.
To learn more, see RED Comp #4829.