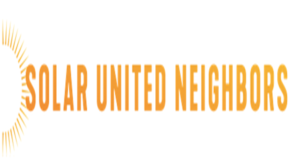 Limited support available to subsidize installations on income-eligible homes
Tucson, AZ – Today, nonprofit group Solar United Neighbors (SUN) announced the launch of the second annual Tucson Solar Co-op to help Tucson-area residents go solar. Building on the success of the 2020 group campaign, this year's co-op hopes to expand access to solar by supporting a limited number of income-qualified installations.
"The co-op will enable Tucson homeowners and business owners to join the growing community of people saving money by harnessing solar power," said Bret Fanshaw, Arizona program director for Solar United Neighbors. "We are also blessed this year to have the support of a local donor to help a few income-qualified families go solar and reduce their electric bills."
The 2021 Tucson Solar Co-op is free to join and open to homeowners and business owners in the Tucson area. Together, co-op members will learn about solar energy and leverage their numbers to purchase individual solar systems at a competitive rate. Local solar installers will have the opportunity to bid to be selected by the co-op. Joining the co-op does not obligate members to purchase solar.
Last year, the 2020 Tucson Solar Co-op grew to 168 member households. Of those, 61 co-op members installed a total of 435 kW of solar. Overall, the group invested $1.2 million in the local clean energy economy.
The local partners for the 2021 Tucson Solar Co-op include Physicians for Social Responsibility - Arizona Chapter, Sustainable Tucson, and Sierra Club - Grand Canyon Chapter.
"This chance to be in on a group purchase of rooftop solar is one I think my neighbors will relish," said Duane Ediger, with Sustainable Tucson.

"Sierra Club is pleased to partner on this solar co-op opportunity, which will help to advance clean solar energy in our communities while making it more accessible to more Arizonans," said Sandy Bahr, chapter director for Sierra Club's Grand Canyon (Arizona) Chapter. "More installed solar means cleaner air, reduced water use, lower electric bills, and doing more to help address the climate crisis. This co-op is a big win all the way around."
Since 2019, SUN has hosted 8 solar co-ops in Arizona. According to the group's estimates, the 237 homes and businesses that now have solar panels because of co-ops represent: 1.7 MW of solar power, $5.2 million in local solar spending, and more than 70.1 million lbs. of lifetime (25-year) carbon offsets.
SUN will host several free online information sessions to educate community members about solar energy and the co-op. Individuals interested in going solar can sign up for the co-op or one of the upcoming information sessions at the co-op web page. Homeowners interested in learning more about receiving financial support can indicate their interest when signing up for the co-op.
Informational webinars are planned for:
Wednesday, October 27 from 7:00 pm to 8:00 pm MST
RSVP here
Tuesday, November 9 from 7:00 pm to 8:00 pm MST
RSVP here
Tuesday, December 7 from 7:00 pm to 8:00 pm MST
RSVP here
Solar United Neighbors is a nonprofit organization that works in Arizona and nationwide to represent the needs and interests of solar owners and supporters. Solar co-ops are part of the organization's mission to create a new energy system with rooftop solar at the cornerstone. Solar United Neighbors holds events and education programs to help people become informed solar consumers, maximize the value of their solar investment, and advocate for fair solar policies.