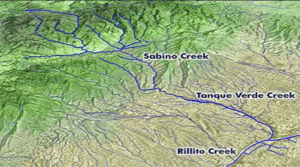 PIMA COUNTY — The Pima County Regional Flood Control District on April 16 will begin removing approximately 5,000 cubic yards of sediment in the Alamo Wash where it meets Rillito Creek just east of Swan Road. Work will take place Monday through Friday from 6:30 a.m. to 5 p.m. through April 30.
The project seeks to prepare the confluence ahead of the Monsoon, which brings more than half of the Tucson area's annual rainfall. A buildup of sand at that spot has lowered the capacity of the wash to handle storm runoff.
"Every summer is different. Some years the Rillito gets most of the action, other years it's the CDO (Cañada de Oro) Wash," said project manager Colby Fryar. "You never know what part of the flood control system is going to need to be ready, so we start work well ahead of time addressing problems before they happen."
Crews will preserve stands of desirable vegetation while removing invasive species and other plant life that could contribute to flooding or hamper Flood Control's response. County-contracted herpetologists this week will scour the area and hope to relocate dozens of lizards and other reptiles.
As part of the work, trucks hauling away sediment and debris will access the project site using a temporary ramp near The Loop trailhead and parking area east of the Swan Road bridge. The vehicles will enter and exit Swan from Paseo de los Rios, at the entrance to the Summerlin Villas Apartments for the duration of the project. The truck traffic also will cause intermittent, temporary delays for Loop users. A spotter hired by the project's contractor will manage the right of way.
For more information, contact the RFCD by phone at 520-724-4600 or online