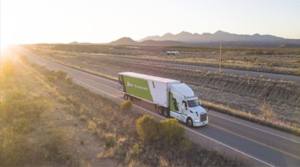 Fast-growth company will create 500 new jobs and expand its test facilities in 2019
TUCSON, Arizona– TuSimple, a global self-driving truck solutions company, today announced plans for further expansion in Tucson, Arizona. The company has been testing its Level 4 Class 8 autonomous trucks in the state of Arizona for over a year and recently began generating revenue hauling freight for commercial carriers in the state.
Earlier this year, TuSimple expanded its testing facilities at 9538 E Old Vail Road from 6,800 to 50,000 square feet, and in 2019 the company plans to further expand their footprint. To support its growing development program, TuSimple projects it will create 500 new jobs across a variety of fields ranging from engineering and autonomous truck driving to office management. The company will also expand its autonomous fleet to 200 trucks in the U.S. by 2019. With 500 trucks worldwide in 2019, TuSimple will be the world's largest autonomous truck fleet. The expansion has a projected total economic impact of $1.1 billion over the next five years.
TuSimple is on a mission to create the world's safest self-driving semi-truck perception system. TuSimple's camera-centric system has a vision range of 1,000 meters—farther than any other perception system today—and can "see" 360 degrees around for a pixel-level interpretation of the visible environment, enabling the vehicle to locate itself within four inches of the road at all times.
In 2017, TuSimple secured $23 million in a Series B funding round, and the company raised an additional $55 million of Series C funding in November of 2017.
"Arizona has actively supported the research and development of autonomous vehicles, and we are pleased to be expanding our footprint in the state," said Xiaodi Hou, CTO and Co-Founder of TuSimple. "We thank Governor Ducey and our community partners for their generous support."
"In Arizona, we're committed to encouraging new technologies," said Arizona Governor Doug Ducey. "TuSimple's original expansion into our state, and this announcement to expand even more are testament to the environment we've created here, one that is business-friendly, where innovators do what they do best: innovate."
"Under Governor Ducey's leadership, Arizona's focused on disruptive technology trends, and autonomous driving is undoubtedly one of those trends," said Sandra Watson, president & CEO of the Arizona Commerce Authority. "It's exciting to have a forward-thinking company developing cutting-edge technology here in our state, the best place to launch, test and scale new ideas."
"Tucson welcomes the 500 new jobs TuSimple is bringing to the community," said Mayor Jonathan Rothschild. "New technologies continue to evolve and it's important that Tucson be a city that can attract and retain the jobs of the future. TuSimple's decision to locate and expand here is just the latest demonstration that our city is on the right track."
"TuSimple's autonomous truck technology will be a game changer in the transportation world," said David G. Hutchens, chair of Sun Corridor Inc. and president & CEO, UNS Energy Corp, Tucson Electric Power & UniSource Energy Services. "We want to be known as the location where technology companies like TuSimple can grow and thrive."
"Just a year ago, TuSimple chose Tucson for a new testing location, adding 100 new high-wage jobs," said Joe Snell, president & CEO, Sun Corridor Inc.  "Since then, they have moved to larger facilities and now are dramatically expanding their workforce. This is a great testament to the confidence in our region and the ability of innovative businesses to operate on a large scale in Tucson and Southern Arizona."