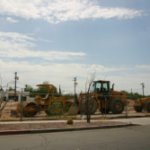 Royal Properties is a company with one purpose: to develop, own and manage multi-family student housing near four-year universities throughout the United States. It was founded in 1979 by Michael Henneman and Rodrick Schmidt in Chicago. Its latest project will break ground this month for a 232-bed student housing project in the Iron Horse Neighborhood.
The Junction at Iron Horse LLC, an affiliate of Royal Properties, was formed to develop a 2.43 acre site at 504 E 9th Street in Tucson, located at 3rd Avenue and 9th Street, 0.6 miles from the University of Arizona in Tucson. The Junction at Iron Horse is an off-campus transit-oriented development located within 850 feet of a Sun Tran bus stop on Toole Avenue and 400 feet from the Tucson Modern Street Car stop at 4th Avenue and 9th Street. It is also located within 800 feet from two new public parking structures near 4th Avenue and Toole Avenue, with pedestrian and bike routes prevalent in the area and a Walk Score of 90, the highest in the Tucson area.
A global firm, The John Buck Company (JBC) of Chicago joined the venture recently to handle the management oversight of the project. With more than three decades of experience, JBC has a strong track record of innovation in the field.
JBC is a recognized leader in sustainability efforts and a member of the U.S. Green Building Council. The company has completed projects totaling more than 40 million square feet that represents more than $10 billion in financing.
Working with JBC is Grenier Engineering of Tucson (John Grenier, managing member) and Architects, GDA Southwest of Tucson (John Price). Adolfson & Peterson Construction of Tempe (Ben Lehan, Project Manager) is the general contractor.
Plans filed with the City of Tucson on 3/8/2013 proposed an expansion of the project from 198-beds in 67 units to 297-bedrooms in 97-units. Neighborhood meetings followed with JBC representatives and City reviews and the project was permitted for 232 bedrooms in 76 units, primarily due to parking issues.
According to a supplemental parking demand analysis filed with the City, the parking requirements of 253 parking spaces for the 297-bed student housing project would fall short of City requirements by 118 spaces, even with a surplus of designated bicycle spaces being in surplus, with 179 spaces minimum and 186 proposed. The City's IPP approval for the original plan stipulated an "unbundled" parking charge of at least $25 per month, per space; providing each resident a "stored value" Sun Tran bus pass; providing bed parking at the rate of 0.625 per bedroom; and the provision of car sharing."
With the Junction's design modified by an additional fifth floor and rooms added, the ratio of on-site parking spaces to beds will be 135/232, or 0.79 spaces per bed. The IPP allows 135/76, or 1.77 spaces per unit. With adjacent on-street parking included, the ratio is 183/232, or 0.79 available spaces per bed that is 2.41 ratio with on street parking included.
Curtis Lueck Associates of Tucson, a transportation planning and traffic engineering firm was employed to do detailed research into parking utilization at other student housing projects downtown, their report is significant in understanding how transit and walk access affect parking demand. The firm received permission to videotape the parking areas at The District student housing at 550 N 5th Avenue, to study parking utilization, duration and turnover. Parking data at peak and off-peak times were videotaped to determine by counting the empty spaces and subtracting from the total available. Finally, it videotaped entrances and exits from the parking areas during peak and off-peak times.
The occupancy data showed that the peak utilization of the garage was 76% at peak times and the lowest was 46% at off-peak times. Overall average utilization was about 54% from research performed in February/March 2013. The report notes that The District had the highest parking ratio of all the student housing developments studied.
Roy Drachman of Roy Drachman Realty represented the buyer, The Junction at Iron Horse in the purchase of the property. Peter Douglas and Patrick Welchert of Cushman & Wakefield / Picor Commercial Real Estate Services represented the seller, Crescent Realty Corporation when it sold in June 2012.
The contractor reports that ground breaking will start this month for the 2014 school year opening.
Login for additional information.