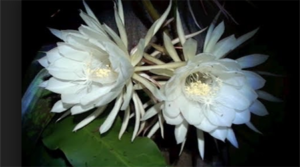 TUCSON, Arizona – The Peniocereus greggii, the Arizona night-blooming cereus also known as the "Queen of the Night," will be blooming soon, and Pima County Natural Resources, Parks and Recreation is offering an opportunity for the public to come watch for free.
Last year dozens of members of the public came to the County's Native Plant Nursery, 5845 N. Camino de la Tierra, with cameras at the ready to capture the beauty. In past years, the showy cacti have started blooming as early as June 12 and as late as July 12.
"I won't know for sure until lunchtime that day," said Jessie Byrd, manager of the Native Plant Nursery.
This year, volunteers recently finished planting more than 100 salvaged "queens" just north of the nursery at Pima Prickly Park, 3500 W. River Road, so "Bloom Night" will likely be better in the park than at the nursery. Members of the Tucson Cactus and Succulent Society will help guests navigate the paths to get to the blooms.
Sign up to be notified by email when the night-blooming cereus are ready by contacting Valerie Samoy at Valerie.Samoy@pima.gov. You can also monitor the Facebook page for Pima County Natural Resources, Parks and Recreation.