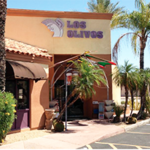 SCOTTSDALE, AZ – Commercial real estate developer SimonCRE purchased a +/- 7,000-square-foot restaurantbuilding for $2.05 million ($293 PSF) from a popular Scottsdale restaurant located within the Sonora Village Shopping Center. The building is located at 15544 N. Pima Road in Scottsdale, just off Frank Lloyd Wright and the Loop 101 in Scottsdale, AZ.
After nearly 20 successful years in business, Los Olivos Norte closed its doors on Saturday. The owners will continue to operate the downtown Scottsdale location at 7328 E. 2nd Street. The owners were looking for a good exit strategy for this location and found this was a great opportunity with SimonCRE.
"This retail building is in an excellent location in a thriving center," said Josh Simon, President of SimonCRE. "Although one popular restaurant is closing, we're confident this new restaurant will have much success here."
SimonCRE has already signed a lease with an exciting new Asian fusion concept restaurant, which will offer Asian and American cuisine options, sushi, and handcrafted cocktails in a stylishly sophisticated atmosphere. Tenant name will be released at a later date.
Major restaurants and retailers in Sonora Village Shopping Center include O.H.S.O. Brewery, Wildflower Bread Company, Staples, Best Buy, Hi-Health and Golfsmith.
SimonCRE currently has over 50 projects in the pipeline valued at over $100 Million creating thousands of jobs in several markets across the country. Visit www.simoncre.com to learn about all of the local and national projects underway.