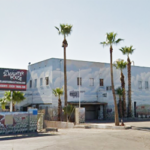 Tucson Screamers of Tucson (Bobby Sutton, manager) purchased the property at 1102 West Grant Road in Tucson in a lease purchase transaction for $1.3 million ($44 PSF) from Asset Builders of San Diego, CA (Joseph Oliver, manager).
Sutton said, "The building would have probably been a tear down, if I hadn't leased it in 2009." Sutton had a vision for the property, the former real slaughter house would become The Slaughterhouse Tucson, a haunted house amusement venue. Today, its claim as 'Tucson's scariest haunted house' should not be underrated, with five twisted themes to choose from: Twisted Tree Mortuary, Cirque du Slay, The Boiler Room, City Meats and The Apocalypse.
The 26,140-square-foot main building was built in 1961 as a real slaughter house, and later converted to a cold storage warehouse.  There is also an additional 8,626-square-feet in out buildings on the property built in 1957 and 1965 certainly makes it the largest Haunted House sitting on 3.77 acres.
Sutton says he has spent over $500,000 in renovating the building since leasing it.
The Halloween season opens from September through October, but by 2017 Sutton told us he hopes to have a weekly Zombie Apocalypse at the Slaughterhouse.
Currently, Sutton's professional cast is in demand globally delivering a Zombie Apocalypse experience. The company Apocalypse Global licenses its exclusive technology to the entertainment industry and travels with the popular Walking Dead fan club. It's road crew travels the country with a 5,000 square foot mini maze, a state of the art weapons system, and of course a horde of the undead to shoot at. For the road show, Apocalypse has partnered with numerous Comic-Con style events like Walker Stalker Con, Heroes and Villains Fan Fest, and more!
In addition to the hauntings at the Slaughterhouse, concerts are held there 5-6 times per year. Check the event calendar at www.SlaughterhouseTucson.com for upcoming concerts and www. apocalypseglobal.com for additional information on the Zombie Apocalypse.
To learn more about this sale see RED Comp #3985.