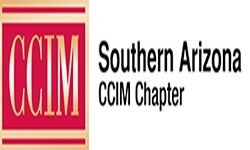 TUCSON, Arizona — The Southern Arizona Chapter of CCIM, commercial real estate's global standard for professional achievement, has announced its leadership and board for 2019.
Gary Andros, CCIM, Andros Properties will serve as 2019 President. The leadership group also includes President Elect, Terry James Lavery, CCIM, Re/Max Excalibur; Treasurer James Bradley, CCIM, AXIA Real Estate Appraisers; Secretary Ryan Heinfeld, CCIM, Advisors in Real Estate; and Immediate Past President Craig Finfrock, CCIM, Commercial Retail Advisors.
James Robertson Jr., CCIM, Realty Executives Tucson Elite also serves as the Regional Vice President for the CCIM Institute. "Region 2 is the largest of ten regional chapters and includes Hawaii," said Robertson. "This year will kick off a new 2019 marketing program for CCIM."
"We are looking forward building on the successes in 2019," Andros said. "Our team is dedicated to promoting the success and expertise of the commercial real estate community through CCIM and my goal is to make that as easy as possible for our members going forward to achieve success."
To this aim, it's signature event, and longest consecutive Competition Forecast event in the Nation, is scheduled to be a breakfast event on February 19th, 2019. With much excitement of a renewed downtown Tucson, the XXVIII Competition Forecast will be held at Tucson Convention Center in the Copper Ball Room, registration and networking begins at 7:30 am and program from 8:30 to 11:30 am.
Keynote Speaker will be K.C. Conway, MAI, CRE, Chief Economist of the CCIM Institute and Director of Research and Corporate Engagement at Alabama Center for Real Estate. With over 30-years' experience, as an advisor and national expert of the Federal Reserve, FDIC, FHLB, Bank Commissions and Groups of all types. Tucson and Adaptive Reuses – Ports, Logistics and Securitization will be discussed.
The public is invited to attend. Learn more about Southern Arizona CCIM Chapter or to register for 2019 XXVIII Forecast Event : CLICK HERE
Or see flyer here Save the Date Flyer