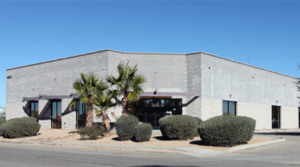 TUCSON, ARIZONA -- Steven J. Shenitzer and Hollece F. Shenitzer, Trustees of the Shenitzer Family Trust, and WV, LLC, purchased an 18,754-square-foot industrial building located at 4575 S. Coach Dr.  in Tucson. The industrial warehouse property, situated on 1.54 acres in the Butterfield Business Center, was purchased from Real Estate Wise, LLC, an affiliate of Sockwise for $2,000,000 ($107 PSF).
The transaction closed on October 19, 2021.
The strategically located warehouse/office, built in 2001, is located near I-10 and Tucson International Airport in the Butterfield Business Park with 18,754-square-feet of improvements on a 1.54-acre CI-1 zoned parcel. The class B building is about 15-20% office and has a loading dock.
The transaction was an investment sale leaseback with an affiliate of the seller, Sockwise, a worldwide provider/manufacturer of travel socks, hiking and athletic socks and diabetic patient use socks. Sockwise, founded in Italy, produces a variety of compression socks for all kinds of work, sports, leisure fashion and healthcare. This facility is their US based location.
Sockwise, operates in the Sporting and Athletic Goods, business / industry. It has been operating for approximately 24 years and also operates under the name Vitalsox, Caresox, Travelsox, Worksox, SOX, are all made in Italy using the latest technology in compression socks.
Robert C. Glaser, SIOR, CCIM, and Paul Hooker, Principals and Industrial Specialists with Cushman & Wakefield | PICOR, represented the buyer in this transaction. John Hamner, CCIM, and Julian Willetts with RE/MAX Excalibur, represented the seller.
For more information, Glaser and Hooker can be reached at 520.748.7100. Hamner can be contacted at 520.907.0030 while Willetts should be called at 520.820.2231.
To learn more, see RED Comp #9264.